Push-back racking systems are outstanding solutions for high-density storage - maybe the most cost-effective way to extricate space from a crowded warehouse. Everything is stored and retrieved from the same aisle. With higher storage density and less aisle space, push-back racking systems can store up to 90% more pallets than selective racking.
Push-back racking uses simple gravity to move stored pallets forward onto the rack for picking. In a push-back racking system, the pallets move forward to the forklift, rather than the forklift driving in to reach the pallets.
Use the right pallet
After installing a push-back system, it is vital to ensure that the correct pallets are used.
Knowing the type and size of pallets that the rack is designed to store is important. Push-back systems are designed to handle pallets and loads of specific sizes and weights. For example, if your cart is designed to use pallets that are 40 inches wide x 48 inches deep, do not use pallets that are longer or shorter than this size.
Using pallets that are not designed to be loaded into the system may result in
● Cross-stacking: (one pallet on two different carts); this will result in blockages or possible damage to the cart, your load, or both
● Underutilization of system capacity
● Damage to the cart system and possible damage to the stored product
● Jams: Defective or damaged trays may not allow the push-back system to function properly
● Hang-ups: It is almost guaranteed that a dangling load will cause the cart to hang up and your system to jam. Worse yet, when items fall off the shelves, they can cause a safety hazard.
What should the pallet look like?
● Most of the time, the tray should be GMA style with at least five (5) base plates running from left to right
● Pallets should also be shrink-wrapped or securely strapped before being placed in the system
● Goods should not protrude from any side of the pallet, including liners, shrink wrap, carton covers, incorrectly stacked boxes or other elements
Load capacity consistency
Push-back racking is all about load type, pallet type and load weight uniformity. Even if the racking can accommodate heavier pallet weights, pallet load weights should not vary by more than 500 lbs. in a single rear push aisle. Do not store a 2,000 lb. load in the same rear cart aisle as a 1,000 lb. load.
Similarly, push-back racking systems are not suitable for applications where pallets are "picked" on the side of the aisle. Removing cartons reduces the load weight of the last pallet in the rack and may cause the internal pallets to push the aisle side pallets out of the rack. Loading pallets of different weights in the same aisle can cause heavier loads to push lighter loads off the shelves. This can mean product damage, injury or worse. Be consistent with your loads. They should be similar in as many ways as possible for the push-back rack to work correctly and safely.
The bottom line: If your pallet load varies 500 pounds or more, specify rear push aisles to handle common load weights.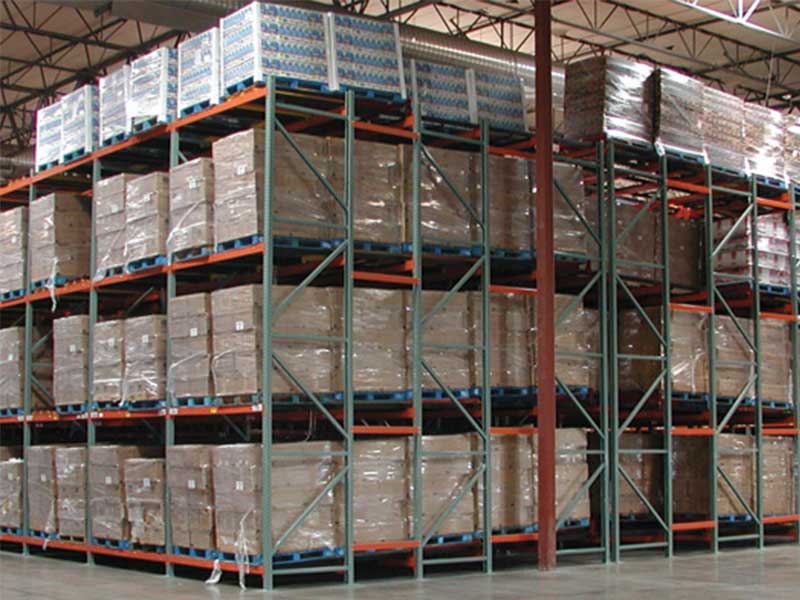 Further Reading:
Why consider drive-in/through pallet racking in your warehouse?

What you must know about vertical storage system

Original Danish trolleys from Spieth

Why do you need to use metal shelving in your warehouse?

Six common types of industrial steel pallets