There are often large amounts of unused vertical space in warehouses. So instead of renting additional space or adding expensive additions to your facility, a mezzanine can help you use that space.
If you are planning to add mezzanines to your pallet racking to increase available floor space, there are three basic considerations to help you determine if this option is right for your business. Learn about the different types of mezzanines available and how they can be integrated into your business.
What are the benefits of adding a warehouse mezzanine?
Mezzanines offer huge advantages for warehouse operations of all sizes. The most obvious benefit that mezzanines offer is the ability to increase vertical storage space and capacity.
Many warehouses have unused or underutilised vertical space available for storage purposes. At the same time, floor space is often limited. By installing mezzanines you can increase the storage space in your warehouse and free up aisle space. Mezzanines can also create additional office space in narrow workplaces.
In this case you may need to move, redesign your space or add some space to your warehouse to gain more space if you choose not to install a mezzanine. As you can imagine these solutions can often be costly. You will also have to deal with the costs associated with downtime or limited operations due to moving or heavy construction. Instead, install mezzanines to make use of the space you have.
Certain types of mezzanine can also improve the flow and efficiency of your warehouse operations. Mezzanines also allow you to add functionality to your warehouse. For example, some mezzanines can include modular offices or other facilities required by the warehouse itself. Talk to an expert to find out how you can use mezzanines to improve the efficiency of your operations.
Four types of mezzanine
There are four main types of mezzanine available on the market for use in warehouses and distribution centres.
Rack mezzanine
In a rack mezzanine, a pallet racking system on the ground floor supports the platform above. This may be the ideal solution for increasing the available warehouse space depending on the load capacity.
Freestanding mezzanine
A freestanding mezzanine is not necessarily attached directly to a building. It provides a versatile working platform for racking, pallet racking or other uses.
Shelf mezzanine
The shelf mezzanine is the same as the racking variety, the shelf mezzanine uses industrial shelving units as a support structure. A heavy-duty structural steel frame is necessary for this application as it adds strength to the system.
Construction of column mezzanines
When constructing a column mezzanine, the vertical load-bearing structure of the warehouse facility acts as an anchor point for the platform.
Three points to note when choosing a mezzanine system
The three most important considerations for warehouse managers who are laying out the implementation of pallet racking mezzanines include.
Security in warehouse systems
Safety is one of the most important considerations in a warehouse or factory environment. However, there may be specific safety requirements when implementing an elevated work platform with a t-top, such as a mezzanine. These include the placement of automatic sprinkler systems to provide adequate fire protection and evacuation points for workers.
However, you also need to consider the load-bearing capacity of the supporting pallet racking. Can the pallet racking on the ground floor withstand the weight of the mezzanine pallet racking? The consequences of a rack collapse can be catastrophic, so it is vital to consider these factors and consult the rack supplier/manufacturer and engineer before loading these systems.
Convenience of use for mezzanine structures
Each pallet racking mezzanine system should be accessible from multiple points. This is one of the most important considerations, as it affects warehouse security and the transport of goods. Access solutions include lifts, stairs and conveyors. For individual personnel access, stairs may be sufficient.
Personnel access
If you have an existing mezzanine floor installed in your facility, stairs are the best method of access for personnel.
Runway walkway systems
After installing a mezzanine in your warehouse, you can choose from a variety of flooring options, including a catwalk system attached to the racking upright frame. This increases accessibility, mobility and total floor space.
Mezzanine value
Pallet racking mezzanines allow you to utilise shelf space, increasing pallet storage capacity and value per square foot. However, as a modular system, many mezzanines do not require permanent modifications to the warehouse facility, thereby reducing fixed costs. The result is that installing a mezzanine system provides a valuable return on investment.
If your warehouse requires additional office space, mezzanines can provide a platform for modular offices. This allows you to increase your management area without having to reallocate valuable floor space required for stock, inspection, product assembly or shipping and receiving. This also eliminates the cost of leasing external office space and improves your cash flow.
Talk to a mezzanine pallet racking expert
Choosing a mezzanine requires you to assess your warehouse requirements and capacity. Load requirements play an important role in choosing the right mezzanine solution. In addition, you must also address the regulations in your location.
For an optimised warehouse mezzanine solution, consult the professionals at Spieth Storage. We are ready to help you find the right solution for your business's unique situation.
Contact us for a free quote
E-mail : spieth12@spiethstorage.com
Tel : +86 18006010205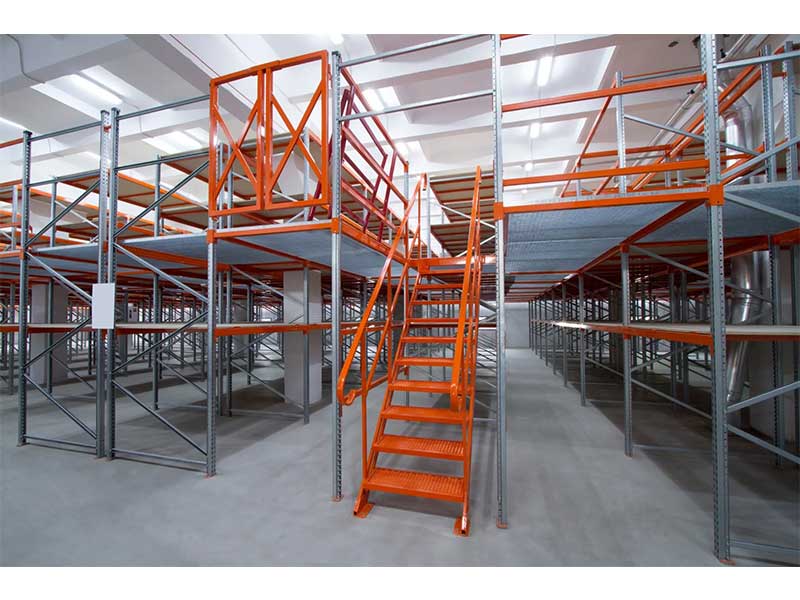 Further Reading:
Choose shelving systems to increase the storage capacity of warehouse

What are the requirements of heavy-duty shelves for ground?

How to choose the right beams and frame for your racks?

How to safely and easily disassemble your pallet rack?