Xiamen C&D marathon should have started the race back to January, 2021 as planned, but due to the spread of Covid-19 in Shijiazhuang, He Bei province, government has ordered that all the big events should stop, in order to control the spread of the Covid-19, so Xiamen C&D marathon had to postpone the game day.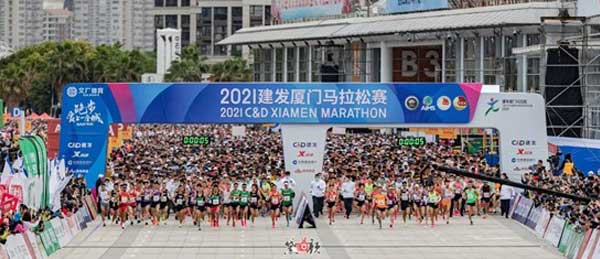 Almost waiting for 100 days, and based on the well control of Covid-19, the committee of Xiamen C&D marathon states that marathon will reopen at 10th, April, 2021, and will not invite foreign runners to take part in the marathon this time.
In the morning of 10th, there were about 15,000 runners standing behind the beginning line waiting for the gun shot to start, and the game will divide 4 zones to start, separated 10 minutes per each zone. The first zone will start at 7:00 AM, which of the runners in this zone is the elite runner with the best result of 2:30:00 or better. With the bear rings at 7:00 and gunshot of starting, the runners rush out to conquer 42.195km distance of marathon.
The famous male runners, Yang Dinghong, won the first place with the result of 2:15:25, and the famous female runner, Jiao Anjing, won the first place with the result of 2:35:30. The male winner said" thanks for the government and medical staff and all the works of life to support the marathon to restart, so give me a chance to win the first place, Xiamen is a beautiful city and a lucky spot of me, I will attend next year and fight for my best personal result"
The running enthusiast Spieth manager, Rooney, took part in this event and finished the marathon with the best personal result 3:14:52, it was the third time for him to take part in the Xiamen Marathon. Rooney said" it feels good when finish the marathon, and Marathon teaches me how to insist, and thanks to the citizens aside of the running ways who encourage me to keep on running when I feel exhausted.just like Spieth Racking Sshlving , will keep on producing the best racks and shelves and offering the best designs and professional service to our clients.