The rails in a shuttle rack system are the tracks or channels along which the shuttle devices move horizontally within the racking structure. These rails are typically made of durable materials such as steel or aluminum to provide strength and stability for the shuttle system.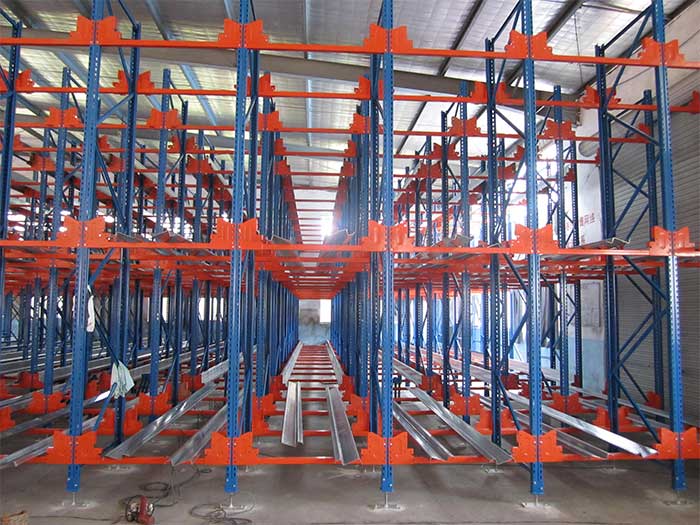 Here are some key aspects of the shuttle rack rails:
Construction:
The rails are securely attached to the horizontal beams of the pallet racking system. They are designed to withstand the weight of the shuttle devices and the pallets they carry.
Configuration:
The configuration of the rails depends on the specific design of the shuttle rack system. They can be installed at each level of the rack structure, allowing shuttles to access and transport pallets at different heights.
Smooth Surface:
The rails have a smooth surface to ensure smooth movement of the shuttle devices. This reduces friction and allows the shuttles to travel along the rails without significant resistance.
Guide Mechanism:
The rails typically have guide mechanisms to ensure the proper alignment of the shuttle devices. These guides help the shuttles maintain their position on the rails and prevent deviations or misalignment during operation.
Safety Features:
Shuttle rack rails often incorporate safety features such as sensors or detectors. These sensors can detect obstacles or obstructions along the rail path and alert the system to prevent collisions or accidents.
Maintenance:
Regular maintenance of the shuttle rack rails is essential to ensure their optimal performance. This may involve inspections, cleaning, lubrication, and any necessary repairs to maintain the smooth movement of the shuttle devices.
Heavy duty shuttle rack rail production process video
The rails play a crucial role in the operation of a shuttle rack system, providing the infrastructure for shuttle movement and pallet handling. They enable the shuttles to efficiently navigate through the rack structure, accessing and retrieving pallets as required.