Applying

wire mesh decking

to pallet racking increases the use of racking systems. Wire mesh decking creates a stronger, longer lasting alternative to wood panels between beams. The mesh design also improves airflow, which is critical for storing temperature- and humidity-sensitive products. Learn how pallet racking wire decking can better transform storage areas.
Advantages of wire decking versus wood and other alternatives
When choosing a deck for your racks, don't use wood panels or other alternatives. These alternatives are wasteful, cost more money, require more time to install and increase the risk of pathogens and fire spread. Don't jeopardize worker safety and the safety of pallet contents by using incorrect decking materials.
1. Wear-resistant
Wire mesh decking exhibits a durable, long-lasting structure. Unlike wood, which can warp and split, wire decking does not experience these forms of wear and tear. Choosing galvanized decking reduces the chance of forklifts or pallets causing damage to the floor.
Because wire decking for pallet racking does not wear out as quickly as wood decking, it provides a longer lasting investment to support pallets and their loads. Paying for decking is an investment in proper warehouse equipment that will last for years, even with heavy use.
2. No cutting
While wood needs to be cut to size and can only be installed between step beams, wire decking does not need to be cut. Each deck fits into a standardized rack size to ensure proper fit. In addition, the wood does not have a method of securing the beams like waterfall decking. If not cut correctly, the wood could potentially fall off the rack or not fit properly.
Why waste time cutting to try to achieve a proper fit when perfectly sized wire decking is already being produced to fit between step beams or box beams?
3. Easy to install
Because wire decking is pre-sized, it can be perfectly installed on the shelf without tools. A lip on the waterfall deck holds the deck in place and prevents the cross members from separating. Recessed decking is also perfect for seating, but something needs to be added during installation to improve its security.
Drop-in decks slide into place. Placing them between the step beams should not be the only step, however. The Rack Manufacturers Association recommends securing the embedded decks to the beams or tying them in place to prevent them from separating over time and allowing the decks to come off.
4. Safer
Wire decking is safer than wooden alternatives in several ways - preventing product contamination, reducing the spread of fire and better protecting shelf goods.
The boards between the shelves form a sturdy surface. Without gaps to allow spilled product and dust to flow onto the floor, products are at increased risk of contamination by dirt, bacteria or pests. A solid surface makes it easier for rodents and bugs to crawl through the boards to reach the pallets and the products on them. In food storage situations, this can lead to serious product loss due to contamination.
Secondly, in the event of a fire, flammable planks can accelerate the spread of flames. In addition, solid planks can block the flow of water from fire sprinkler heads, thus reducing the efficiency of the facility's fire suppression system.
Finally, wire mesh decking is better secured to a shelf than wood planks. If the planks are located on top of the beams, they may slide when moving the top pallets, resulting in a loss of load. Even when placed between step beams, boards can still fall off if the rack is pulled apart a little.
5. Reduce Costs
Over time, the cost of cutting, installing and replacing wood panels will be much higher for rack systems than for wire decking designed to fit the rack. Once installed, wire decking requires little to no maintenance. Service life reduces the amount paid for decking over the entire life of the pallet rack in which it is installed.
Comparing the price of wood decking and wire decking for racks, buyers find the cost to be similar. When considering the time required to make the boards fit and replace them regularly, wire decking is much less costly.
6. Stronger
Compared to wood, wire decking is stronger. Mesh decking has a wide range of load-bearing capacities, but most start at 2,500 pounds when the load is evenly distributed. The weight supported by the floor must not exceed the weight that the shelves can carry. Wood cannot handle such heavy loads. In addition, if the wood gets wet or over time, the wood may weaken, thus reducing the total amount it can carry over time.
7. Better lighting
Although the solid wood panels block the light from above, the mesh decking allows light to pass through. Workers under the deck can still get enough light to see clearly. By retaining lighting in this area, wire decking can help workers avoid trip hazards, making them safer.
Contact Spieth for Pallet Racking Deck Options
If you have pallet racking, upgrade it with the correct wire mesh decking. We have the complete solution, including racking systems and decks. To get started on finding the right decking and pallet racking for your facility, contact us through our online quote tool. We will work with you to get a custom quote.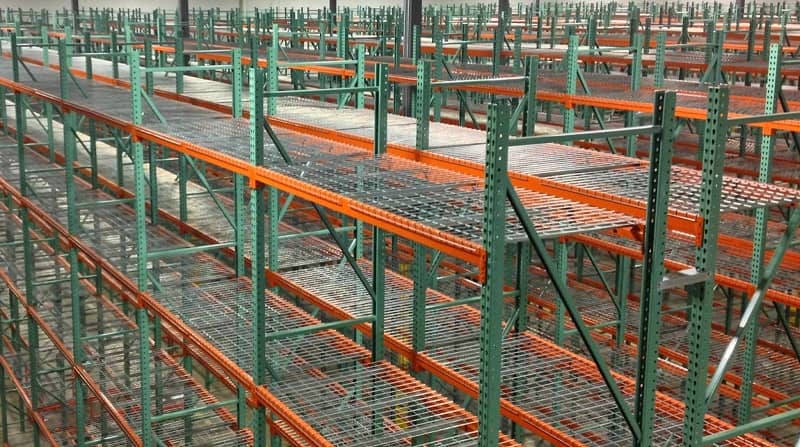 Further Reading:
Why are pallet racking anchors critical to the entire structure?

4 Methods to Prevent Pallet Racking and Inventory Damage in Warehousing

Five significant advantages of pallet racking systems

Why choose drive-in pallet racking system in your warehouse?

Why do you need a custom racking system?