Introduction to Narrow Aisle Racking
Narrow aisle racking is a kind of heavy duty racking. Compared with general heavy-duty racking, narrow aisle racking aisle can only be 1.5m-2.0m, while general heavy-duty racking needs 2.8-4.5m aisle. So narrow aisle racking is about 40% higher than heavy duty racking in terms of space utilization.
Narrow aisle racking must be equipped with a three-way forklift. The forklift can only move back and forth within the aisle of narrow aisle racking due to the restriction of the track, and then move and turn through the front forks to carry out the cargo access operation.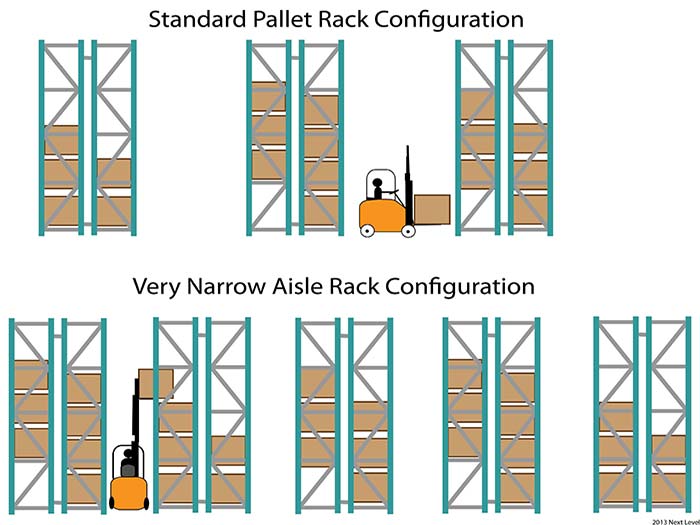 Aisle details for narrow aisle shelving
The aisles of the narrow aisle racking are tracked, which limits the trajectory of the three-way forklift and prevents collisions between the forklift and the racking. Due to the existence of the track, the bottommost goods cannot be placed directly on the floor, but must pass through the crossbeam and be placed on the crossbeam, while the height of the top surface of the bottom crossbeam must exceed the height of the track.
Narrow aisle shelf track is made of thicker steel plate bent and connected to the ground very firmly by expansion bolts. The corners of the track will be rounded to facilitate the driving out of the forklift, and the corners will be reinforced to improve the safety of narrow aisle shelves.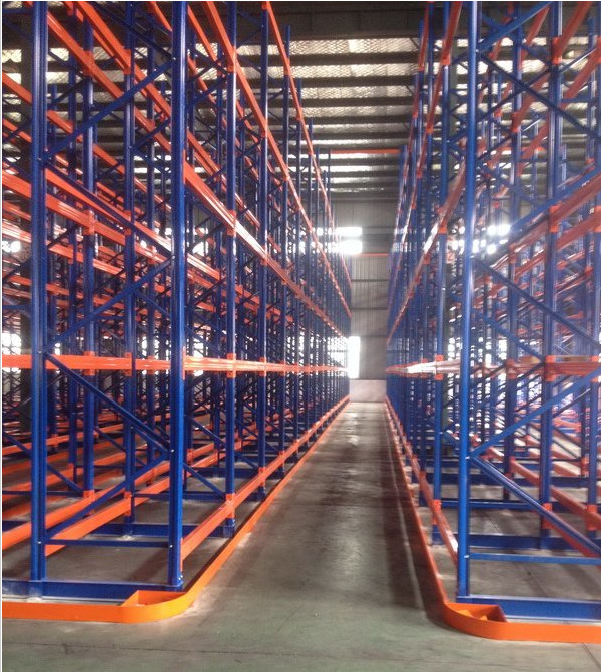 Narrow Aisle Racking Features
1. The space utilization rate of narrow aisle racking is about 40% higher than that of general heavy duty racking.
2. Narrow aisle racking must be used with three-way forklift.
3. Narrow aisle racking bottom goods must be placed on the racking beam, not directly on the ground.
4. The aisle of narrow aisle racking is tracked, the forklift moves forward or backward in the track, and the access of goods is completed by the forklift moving backward and forward with the movement and steering of forks.