Introduction of column Mezzanine Floor Pallet Racking
Column mezzanine floor pallet is a storage equipment with simple structure and elegant appearance. Column mezzanine floor pallet, which is composed of upright platform and shelf, includes medium, heavy and light shelves. The upright attic shelf has some shelves placed on the platform, but these shelves can be moved. The rise of Column mezzanine floor pallet from the growing demand for warehouse storage in enterprises, and the personnel in the storage equipment industry have developed upright attic shelves based on the original shelves.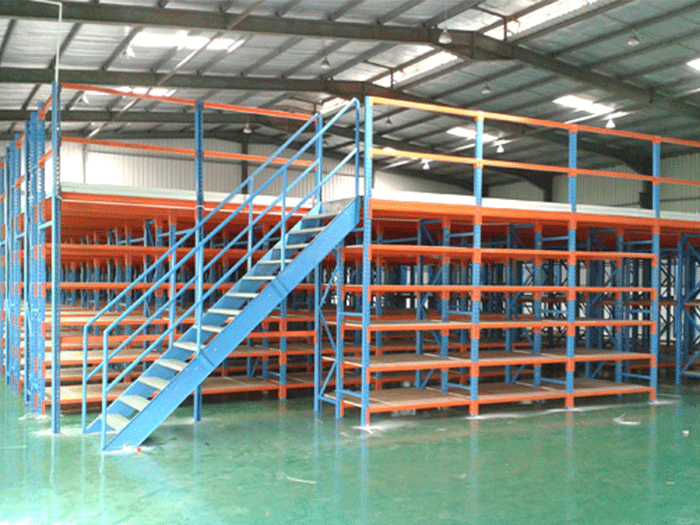 Features of column mezzanine floor pallet
●It can make the warehouse storage capacity increase to 2 times of the original.
●It has a wide range of application industries, it is suitable for hardware, plastic, machinery, parts and other industries of the warehouse.
● Its surface is electrostatic spraying, it can prevent the shelves from rusting.
Column mezzanine floor pallet use requirements.
●It needs forklift, lifting platform and other storage supporting equipment to cooperate with the use.
● Column type attic shelves require the effective height of the warehouse is more than 4 meters, this basic condition.
Column mezzanine floor pallet details
| | |
| --- | --- |
| Material | Cold-rolled steel |
| Height | 2000-12000mm or as request |
| Depth | 2000-100000 mm or as request |
| Width | 2000-100000 mm or as request |
| Beam Length | Up to 4000 mm |
| Loading weight | 500 kg-2000 kg per layer |
| Material thickness | 1.5-6.0 mm |
| Colors | Blue, safety orange and computer grey or customized |
| Floors | 1-5 floors, customized |
| Use | Storage a wide variety of goods |
| Packing | as request |
Steel Planks Styles