Introduce of

Mezzanine flooring systems
Mezzanine flooring systems are suitable for high warehouse, light goods, manual access, large storage, but also for the technical transformation of existing old warehouse, improve the space utilization of warehouse; widely used in automotive, electronic, mechanical and other industries. Storage mezzanine floor full-modular structure, can use wood plate, pattern board, steel plate, and other materials as floor, can be flexibly designed into two-storey and multi-storey, suitable for hardware tools. Electronic equipment, mechanical spare parts and other items in small packages and bulk storage, storage of many varieties, less batch goods to make full use of space.
Design Principles of Mezzanine Flooring Systems
Shelf design considers the deformation caused by uneven distribution of cargo weight.
On the premise of meeting customer requirements and ensuring shelf performance, the best scheme is adopted.Spieth puts the safety and reliability of the shelf at the top of the design plan, taking into account the economic applicability of material selection.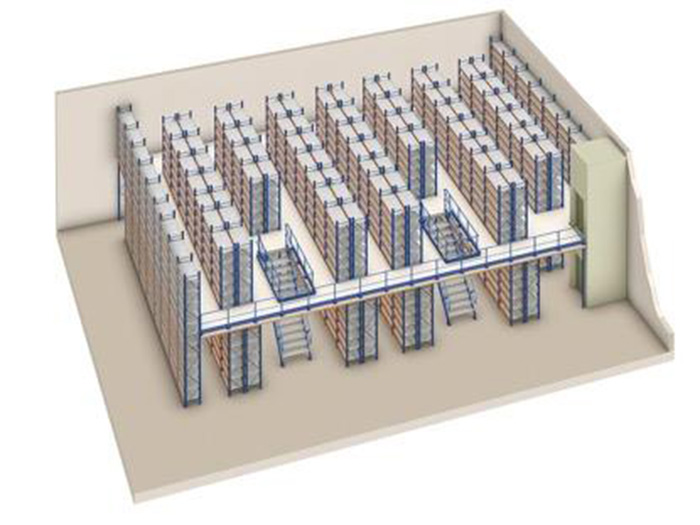 Advantages of Industrial Mezzanine Floor
1. It is convenient and flexible to assemble, install and disassemble at will.
2.The surface is treated by electrostatic powder spraying, and the appearance is beautiful.
3.Optimizing the material cross-section of column, main beam and auxiliary beam, with strong bearing capacity.
4.The lower layer is the form of shelf, and the upper layer can be platform or shelf structure. The bottom shelf can store materials and support the floor, so it is very flexible.
5.It can be flexibly designed into two or more stories according to the actual site needs. It is suitable for storing more varieties, less batches of goods and making full use of space.
Application Area of Storage Mezzanine Floor
Mezzanine flooring systems usually have a bearing capacity of 300 KG~1000KG/m2. They are widely used in warehouses where warehouse are relatively high, goods are small, manual access and storage are large. They can make full use of space and save warehouse area.It is also widely used in automotive parts, 4S stores, light industry, electronics and other industries.