It is critical to have plenty of space in your warehouse to run your business successfully and increase efficiency. But when business does begin to grow, options for expansion are few and far between. It is common for some business owners to consider relocating or building an additional wing to their warehouse to increase their storage space. However, such are expensive solutions, and most small and medium-sized companies find them difficult to implement. Instead, there is a more efficient option -

a mezzanine system

.
Mezzanine systems are a great way to maximize storage space. They consist of several open, raised platforms supported by beams and columns. When built over existing storage areas in a warehouse, they create additional storage by adding a level.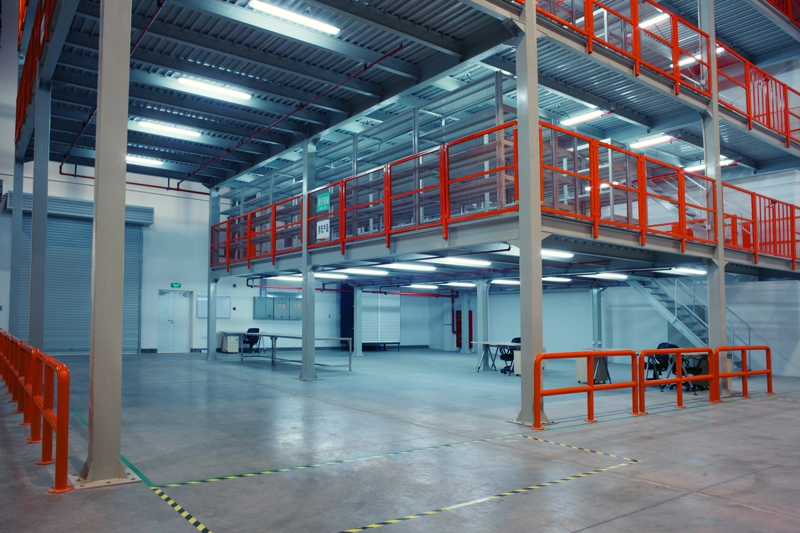 What is a mezzanine racking system?
In short, mezzanine racking systems are extra storage structures that function as attachments between the ceiling and the floor of a warehouse. These massive structures consist of temporary floors (usually made of steel) that can be installed and removed according to the requirements of the warehouse. Often, warehouses and factories may choose mezzanine systems when additional storage space is needed for the manufacture of many bulky products. Over the years, many warehouses have installed mezzanine racking systems in an attempt to make the most of the available space, organize their pallet racking and other storage practices, and improve overall efficiency.
Reasons for using mezzanine shelving in warehouses
So, what are the benefits of using mezzanine systems in warehouses? Why should warehouses and factories consider choosing them? Let's take a look at the following.
More goods accommodated in the same size area.
Installing mezzanine racking ensures that a warehouse does not have to expand its available area to accommodate more products. Since it is an elevated storage place that extends between the walls of the warehouse, it does not take up any additional space in the factory, while also providing the factory with perfect storage for equipment, goods and pallets
Easy installation and dismantling process.
Another advantage of mezzanine racking systems is that they can be installed, disassembled and reinstalled in the warehouse relatively easily compared to other types of racking systems. This ensures that the warehouse can determine whether to use mezzanine racking depending on the number of products being manufactured and the ensuing need for additional storage space.
More available workspace.
As more heavyweight machinery, goods and material handling products are stored on mezzanine shelving, more floor area may be cleared for other daily business activities. This brings more systems in place and improves overall worker productivity.
Solve your storage problems with Spieth storage solutions
Expand your storage space efficiently and inexpensively with a mezzanine system. Different mezzanine solutions are right for your warehouse, depending on your specific storage requirements.
A professional mezzanine manufacturer like Spieth Storage Solutions can help you determine which type of mezzanine is right for your needs. Over the years, we have worked with customers in a wide variety of industries. Our mezzanine racking systems have helped many businesses easily and economically solve their warehouse storage problems without sacrificing quality.
For more inquiries about how we can help you, please contact us at +86 18006010205 or immediately at [email protected]
Further Reading:
How can steel wire roll containers simplify supermarket operations?

Criteria and keys to choosing the right industrial shelving for your warehouse

The Secret of Heavy duty shelving

Selecting the right pallet racking system for your business

Everything you might be interested in knowing about heavy-duty cantilever racking systems