Heavy-duty cantilever racking systems

are designed for storing heavy, awkwardly shaped, irregular and very long items. They are perfect for storing non-palletized inventory in the vertical storage space of a warehouse.
Handling heavy items is often done with structural steel cantilever racking system. With their heavy-duty construction necessary for forklift operation, structural steel can withstand the impact of material handling equipment. Lightweight cantilever options, rolled cantilevers, cannot handle the same weight or impact.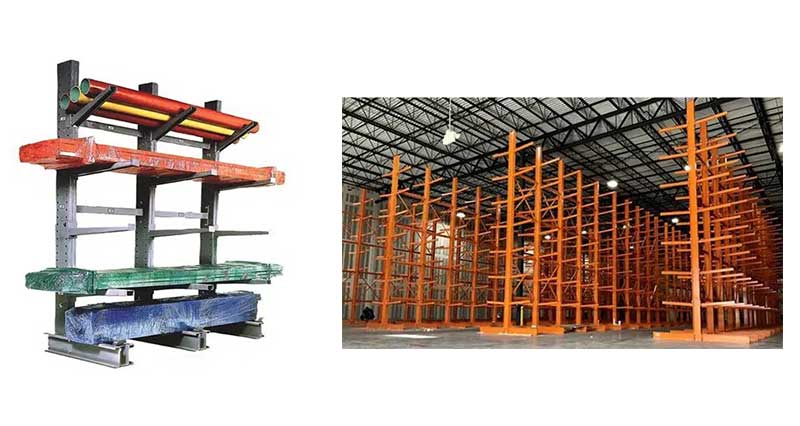 Cantilever system composition and its advantages
Structural cantilever racks are composed of columns, arms, brackets and bases. In contrast to pallet racking systems, they do not allow for pallet inventory. By contrast, inventory is stored directly on the cantilever.
The cantilever arms are bolted and welded to the upright beams. They extend horizontally from the upright beams and hold the stored inventory. The absence of a front column increases inventory visibility and accessibility to material handling equipment.
Spieth heavy-duty cantilever racks demonstrate the unique benefits of cantilevered storage. Its different arm styles and attachments allow it to store inventory of various lengths and sizes.
The top row of arms shows the tilt arm style for fixed rolling stock. The second row of arms shows the arm lips that hold items in place if any object moves. The bottom of the cantilever storage system carries the heaviest load because it does not count toward the system's load capacity.
The Spieth Heavy Duty Rack single-sided model can hold up to 18,100 pounds of material. With arm lengths ranging from 8"-48", you can meet your unique storage needs. You can place arms at 3" intervals on the uprights to create storage space for large items.
Single-sided cantilever vs. double-sided cantilever
There are two types of cantilevered shelving designs on the market for warehouse use. Single-sided cantilevers have arms that extend in one direction only. Double-sided racks have arms that extend outward from the upright front and back.
Single-sided racking systems are ideal for storage against warehouse walls. They are usually adjacent to the exterior of buildings under rain cover. Outdoor structural steel cantilevers are treated with rust-proof paint to ensure their longevity.
Double-sided cantilever racking makes efficient use of floor space by providing aisle storage. Forklifts can access materials on both sides of the aisle. The double-sided configuration does not affect the load capacity of the uprights except for the weight of the other arms.
Safety in Heavy Duty Cantilever Racks
The open design of cantilever racks results in heavy materials being stored in potentially hazardous locations. By using an arm lip and an angled arm, you minimize the possibility of dropped stored materials.Spieth cantilever racks have a 1" lip option on the cantilever arm. The lip does not reduce the load capacity of the arm or increase the price. The extra heavy duty straight arm with lip has a load capacity of 3,400 lbs. These arms with lips store heavy loads securely.
Forklift Operation
The most dangerous aspect of a heavy-duty cantilever racking system is forklift operation. Make sure there is enough space between aisles for forklift operation to ensure a safe warehouse.
Structural aisle guards protect cantilever columns and bases from forklift impacts. They can also be used to designate walking space for employees. Spieth barriers have mounting holes on three sides and can be used as corner posts or center posts. They can withstand load impacts of up to 10,000 pounds at speeds of 4 mph.
Continuously check deflection
Cantilever rack systems store long materials that are prone to deflection and bending. Cantilever racks are constructed to allow some deflection, but excessive deflection is a hazard. ANSI and RMI determine the acceptable deflection for different materials. Each month, you should conduct a safety inspection, paying special attention to the flexing of stored stock. Also, check for any forklift impacts on cantilever uprights and arms. Warping or dents may impair the load capacity of the system.
Get a quote for cantilever racks now
Cantilever racking systems are a valuable storage option for many warehouses. If you store long, bulky items, then a heavy-duty cantilever system is for you.
Browse our complete selection of racks to learn more about available storage solutions. Please contact us at spieth12@spiethstorage.com with any questions about cantilever racking.
Further Reading:
The important role of wire for wire container storage cages

Industrial racking system: Heavy duty racking

Recommended for very narrow aisle (VNA) systems

Analysis of the four principles of optimal warehouse shelving design solutions