Today,

wire containers

and various other different types of mesh cages are widely used for their simplicity and durability. Such containers have led to huge productivity changes for warehouses, making them increasingly growing.
Numerous warehouses around the world have benefited from the use of these wire storage containers. However, when it comes to quality wire containers, what do you think are the most important parameters. Well, the answer lies in the question itself.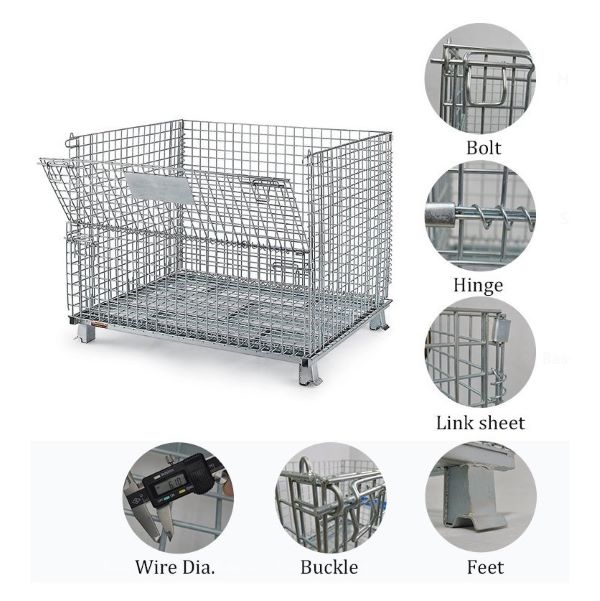 The answer is the wire industry
It goes without saying that the answer is wire, and the quality of this wire comes from its wire manufacturing industry. Therefore, for the best quality wire containers, it is vital that the wire should be manufactured only from the top industries. Spieth is one such industry.
The strength and durability of the manufactured wire will determine the strength and durability of the storage container. Therefore, it is really important to have the highest quality durable wire from top industries in wire storage cages.
Another influencing factors
It is another remarkable thing that the mesh technology in the field of wire mesh industry has led to the manufacture of strong and durable wire containers. These containers are widely known as wire mesh containers.
The mesh of wires forms a structure that gives high strength to the storage cage. It gives it a compact structure that is capable of holding heavyweights. This is what makes the container worthy of storing heavyweight items in a warehouse.
Thus, even when it comes to these amazing mesh containers, the wire industry is once again in the picture. One can essentially use them as building blocks for containers.
If the quality of the building blocks is not high, the entire container will suffer. Therefore, one should make sure that these wires used are of the best quality. You can get assurance by consulting the container or wire container storage cage provider for your pet.
Instead of suffering after the purchase, it is better to identify some things in advance.
Structure of the container
The complete structure of the container comes from these wires. Therefore, any defect in the wires will give the container a defect. To avoid this, it is important to provide classic construction for wire containers and pet execution containers.
The importance and significance of the wire industry is now clear. Today, the storage industry is growing extensively using the best concepts. For the growth and progress of the storage industry, it is important to use only the best quality mesh containers.
This comes from a top wear industry like Spieth Wire, who make the highest quality wire.Therefore, using Spieth wires allows you to quickly get the best of these wire containers and guide your warehouse on the path to growth and productivity.
Further Reading:
Industrial racking system: Heavy duty racking

Recommended for very narrow aisle (VNA) systems

Analysis of the four principles of optimal warehouse shelving design solutions

Warehouse roll cage for pain-free transportation of your goods

Pros and Cons of Double Deep Pallet Racking System

The applications and advantages of mobile shelving