It is by no means stress-free to manage and work in a large warehouse, and yet work can be made less tiring and more productive by proper management and the right equipment. Little did we realise that the most beneficial one would be the one with the longest performance - the warehouse rolling rack! Whilst warehouse employees have been hauling heavy boxes, transferring them from the warehouse site to the loading area requires hand trucks. Throughout the years, there has been a wide range of warehouse cage carts on the market to assist warehouses in various industries.
At Spieth, it is possible to explore a wide range of products, including nestable rolling containers,

warehouse roll cages

and more. Available in a variety of designs and sizes, we cater to the specific requirements of industrial storage facilities and large warehouses.
Warehouse roll cage provides easy handling and proper material handling. This is an excellent time- and labor-saving option for improving warehouse efficiency. They are widely used for storage and transportation in industrial logistics.
The cart is the most useful and efficient solution to the difficulties of transporting heavy goods. There are many benefits to adding rolling containers and warehouse trolleys to your warehouse, including: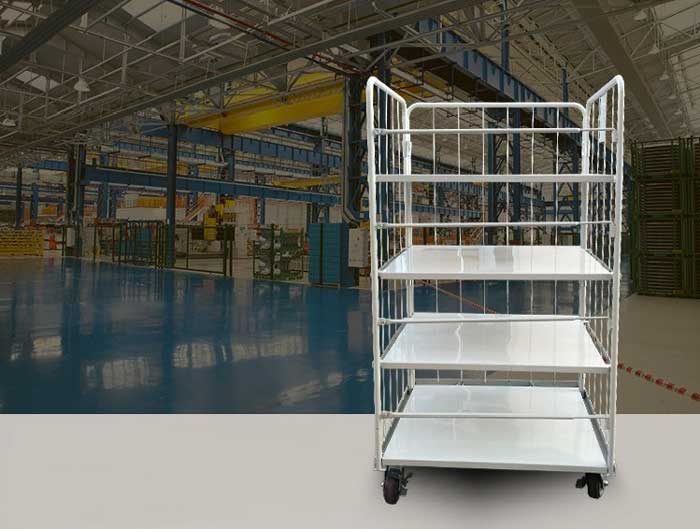 Improving loading and unloading efficiency
The faster you find ways to load and transport your goods, the more efficient and professional your service will be. In large warehouses, warehouse cage carts make it easy to transport more packages at once. A good warehouse roll cage can help you dramatically reduce overall loading times.
Reduce overall operating costs
When items and packages are moved with greater efficiency, the overall cost of warehouse operations can be significantly reduced. The more work completed per man-hour, the greater the revenue per man-hour. Since carts and rolling containers play a critical role in achieving this productivity; they also have an impact on operating costs.
Improving workplace safety
When it comes to warehouse roll cages, one of the biggest and most significant benefits is its contribution to a safer work environment. Warehouse cage carts and rolling containers are the best way to reduce muscle stress - the greatest injury caused by lifting and moving items or packages.
How do I choose the right warehouse roll cage and cart for my warehouse?
There are different operations for every industry and warehouse. Choosing the perfect fit of a trolley or rolling container for your warehouse is essential to your business. At Spieth, we provide a broad range of custom warehouse roll cages and trolleys to meet the needs of your industry. Our roll cages are aesthetically designed, highly maneuverable, rugged and long-lasting.
Our roll cages are great for laundries, hospitals, bakeries, supermarkets and any other manufacturing unit that needs to transport goods and packages from one place to another. Depending on your needs, warehouse anti-roll racks can be customized to meet your specifications.
Further Reading:
Pros and Cons of Double Deep Pallet Racking System

The applications and advantages of mobile shelving
Five features of pallet racking
Which features and applications are there in drive-in pallet racking ?

What I Wish I Knew a Year Ago About Wire Mesh Decking