The wire mesh decking is made of high-strength, durable steel mesh supported by steel channels. Depending on the style you choose, these channels are either located directly above the beams or on the steps of the beams.
No matter what you are looking for -

wire decking

for pallet racking or rolling containers for storing inventory - Spieth has a wide range of warehouse material handling solutions to meet the needs and requirements of every industry.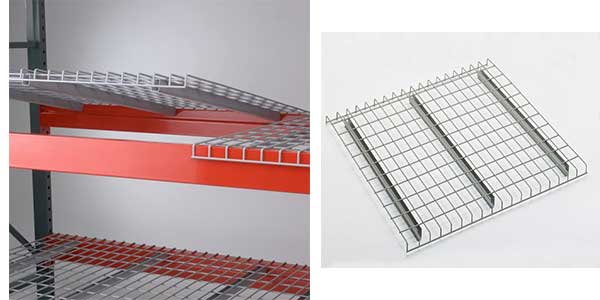 Spieth provides wire decking to improve warehouse security
In order to suit your needs, Spieth has a wide range of sizes and load limits. Wire mesh decking is an ideal choice for storing non-palletized items and can improve warehouse protection due to its non-flammable nature and sturdy support. Drums, various pallet sizes, cartons and a variety of other products can be stored on wire decks. E-commerce, agriculture, distribution facilities and storage are just a few of the organizations that use them.
Wire decks for pallet racking systems
The wire deck is used for caged pallet racking. It provides an area to place sections and open cases without the risk of plummeting merchandise. Wire decks provide a more even distribution of pressure than pallet support bars. They help light to pass through the shelves, reducing the need for additional lighting.
It is also possible for dust and dirt to fall to the floor rather than remain in the racks. This is particularly beneficial in the event of a fire, as ceiling-mounted sprinkler heads are not blocked by the racks and can reach the bottom. When pallet racking is installed indoors, local fire standards require the use of wire decking
Time and money saved with wire mesh decking
Wire mesh decking provides a solid base for cage pallet racking, making it even stronger. It sits on top of the pallet rack, providing it with additional support. Because you are storing your products in a warehouse, the deck provides additional protection.
It saves your organization money because the goods in the warehouse are protected. Since inventory is the backbone of any business, the advantages of wire mesh decking make it worthwhile.
Pallet racking without a proper wire deck can be very dangerous.
Forklift users may do their best to position a post pallet exactly on the rack's beams, but no one can manage it all the time. If the pallet is not perfectly centered on the supports and rests all the way on the edge, the pallet may roll over. As it wraps around the pallet rack, the wire deck eliminates this problem.
Wire mesh decking is a better choice than plywood
Wire decking is more durable than plywood. Plywood or wood may also meet state health and safety regulations. To avoid anything falling off the plywood, you may have to use solid spacers between each section and layer of panels.
Unlike plywood, the wire decking of pallet racking can safely hold half-pallets. Partially loaded pallets can be loaded and stored more easily with wire mesh decking.
Flexible and sturdy wire decks allow more light and air to pass through than heavy plywood floors. Ventilation is critical to a healthy warehouse environment. The product is also more visible thanks to the sleek and durable wire mesh design.
Easy to store and use
Wire mesh decks take up very little space because they can be nested. To install pallet racking, simply mount the decks on the uprights and handle the pallets.
When it comes to assisting with high pallet loads, wire decks for warehouse pallet racking are the best choice. It is versatile since you may get a wide aisle to accommodate your box beams or a U-shaped aisle to match the ladder beams. Wire decking is better and safer than plywood in protecting your goods, which is the most important business investment you can make.
Further Reading:
The main causes of pallet damage and prevention methods

How should the shuttle shelf be used and what equipment is needed to go with it?

The perfect rack for tubes - cantilever racking
What the Heck Is Shuttle Shelf?
Anatomy of narrow aisle racking structure characteristics