No matter if you are a warehouse manager or a purchaser, racking systems play a critical function in industrial storage. When you purchase equipment for your business, a variety of factors need to be considered that directly impact your storage and inventory management needs - these include your available floor space and clear height to docking locations and material handling.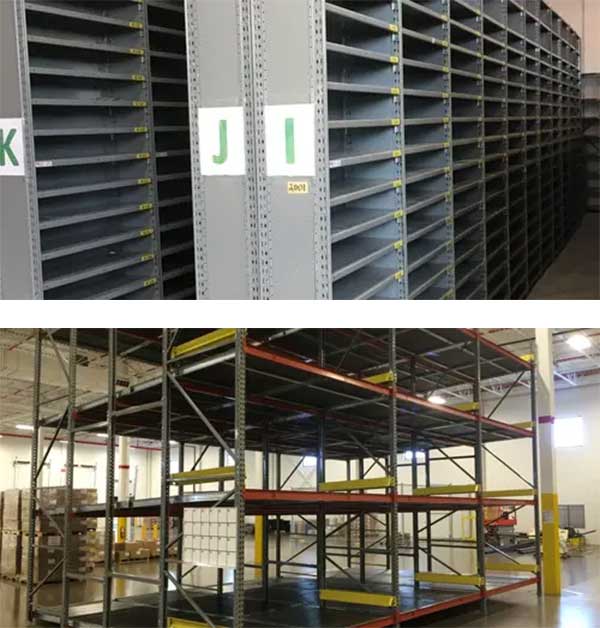 Industrial shelving
Currently there are a variety of shelving systems on the market aimed at facilitating the storage and retrieval of a wide range of goods. These shelving products range from wire shelving units to racks and riveted shelving.
Furthermore there are

heavy duty reinforced industrial storage racks

designed to provide a high level of strength for supporting large and heavy items. They are perfect for storing molds, jigs and fixtures, heavy duty castings, machine parts and automotive parts such as engine blocks. You should always make sure you know what kind of weight you need it to support before placing an order for a racking system. Instruct your personnel not to exceed the specified load-bearing capacity.
Racking or shelving?
A distinction must be made between shelving systems and racking systems. Although both shelving and racking are designed to store inventory, they differ in terms of capacity and retrieval methods. In both the commercial and industrial sectors, shelving can be sturdy, but is usually designed to be accessed by humans on foot or using a ladder. As a result, industrial shelving is typically shorter, with shallow shelves, and is designed to store smaller items.
Storage racks are primarily used to store pallets. They do not have the same size and weight limitations as shelving units because pallet rack storage systems need to be accessed by forklifts and other material handling equipment rather than by manual pickers. Rivet and shelf racks can often store heavier, larger items and are more compatible with automated storage and retrieval systems (AR / RS).
Racking Accessories
As you purchase industrial shelving for your warehouse or factory, you should also consider purchasing

accessories

. These can range from basket shelves and shelf dividers to bottom bars and label racks. If you want to keep your warehouse clean, bottom bars can prevent debris (whether packaging scrap or metal turning) from collecting under the shelving system. You can simply sweep them away. Label racks allow you to mark and identify the contents of a specific shelf or rack, making order picking more efficient. You can find label holders that attach to shelving units using adhesives, magnets or clips. Freestanding dividers help you keep items separated and box faces prevent items from falling off shelves.
Shelving Materials
Heavy-duty shelving is usually made of galvanized, powder-coated or stainless steel. While steel has the strength needed to support tons of inventory, it is also susceptible to surface corrosion. Stainless steel is the most corrosion-resistant option, extending the life of shelving systems and reducing the need for regular maintenance. However, stainless steel is also more expensive. Galvanizing is a zinc coating that manufacturers apply to steel by submerging it in a molten zinc bath. This coating protects the steel from the formation of rust. Although galvanizing protects steel shelving, it can be damaged by material handling products such as forklifts. You should inspect galvanized steel shelving periodically to ensure that it is still in functional condition.
Modular Drawer Cabinets
Modular drawer cabinets allow you to use individual compartments to store large quantities of small parts. These high-density storage cabinets typically have wide handles for easy access. In addition to modular drawer cabinets, you can also purchase bin units for additional storage capacity. Bin units are lightweight, easy to clean and low maintenance. Plastic bins are more durable than wood, and they are also waterproof and recyclable.
Material Handling
The racking system you choose must be compatible with the material handling products you use to load and unload your inventory. If your personnel use pallet trucks and forklifts, heavy-duty shelving is better able to withstand impact. After all, accidents do happen, and while strict adherence to safety protocols can minimize them, you can't eliminate them entirely.
Wire floors
Wire panels can improve heavy-duty storage racks in a number of ways. First, it increases light penetration, illuminating inventory on multiple shelves and allowing for more efficient identification of the contents of shelving units. Second, it allows ESFR sprinkler systems to enter each section of a shelving unit, preventing the spread of warehouse fires.
Get Heavy Duty Industrial Racking at Spieth
At Spieth we provide a variety of different storage solutions. For more information about racking units, shelving systems and other equipment, please contact us via email (spieth12@spiethstorage.com). We'd be happy to help you find the best combination to maximize your available storage space and warehouse efficiency.
Further Reading:
Recommended for very narrow aisle (VNA) systems

Analysis of the four principles of optimal warehouse shelving design solutions

Warehouse roll cage for pain-free transportation of your goods

Pros and Cons of Double Deep Pallet Racking System

The applications and advantages of mobile shelving
Five features of pallet racking