Flower carts, steel pallets, steel racks, roll containers, ...... Nearly every type of carrier on the market today has a load capacity expressed in kilograms. Carrying logistics resources represent a key factor in the logistics industry. However, the term load capacity can refer to more than one concept, and to avoid confusion and surprises, we have listed all relevant elements.
Almost all logistics professionals know that the standard size of the EPAL Euro pallet is 31.5" x 47.2" x 5.7". But did you also know that it has a static load capacity of up to 4,000 kg and a dynamic load capacity of up to 1,500 kg, and that pallets must be officially tested to have racking capacity?
Let's start with an overview of all types of load capacities with the following questions.
What are the three types of load capacity?
Dynamic Load Carrying Capacity
Dynamic load carrying capacity, also referred to as "live load", is a load that changes in direction, location and size, producing different forces on a structure. This is different from static loads, which are constant and stable and produce a single response.
For example, a static load is created if it is stationary on the floor, but a dynamic load is created if it jumps up and down and moves across the floor.
Static load capacity
Static load capacity is better understood as applying only to the static (non-moving) state, which is the load carrying capacity of the load carrier when it is not moving and is therefore static.
Racking load-bearing capacity
Racking carrying capacity for pallets with skids can be said to be the carrying capacity in the racking, where the pallets are in the longitudinal direction in the racking.
What is static load capacity?
Static load capacity is the maximum weight that a load carrier can support with both the load and the load carrier at rest. This applies, for example, if you store goods on
plastic pallets
in a warehouse. The closer the maximum static load capacity of the pallet is, the more important it is that the load weight is evenly distributed over the load carrier. This reduces the likelihood of peak voltages, and thus the likelihood of the pallet failing under charging stress.
F Alternatively, the pallet is assumed to be relatively strong on and around the spool, but weaker in between. This applies to both wooden and plastic pallets. When placing heavier loads, it is wise to give additional consideration to these advantages and disadvantages inherent in the type of load carrier you are using.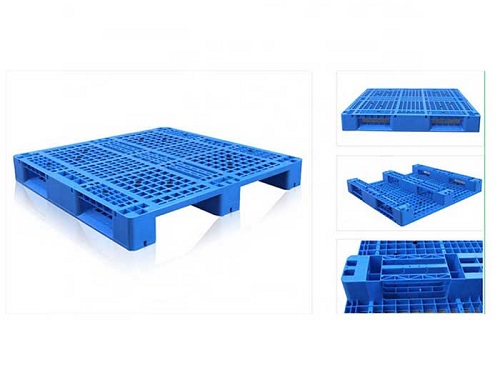 What is dynamic load capacity?
When you are using a forklift or pallet truck to move a loaded pallet, it is very important that you do not exceed the maximum dynamic load capacity. The maximum dynamic load capacity is usually much lower than the maximum static load capacity due to peak stresses. Therefore, the dynamic load capacity is usually about 30% to 50% of the static load capacity. Of course, it is also important that the load pressure is evenly distributed over the pallet.
With pallets, it is wise to distribute the load as evenly as possible across the surface, and in the case of multi-level roll containers, it is wise to place the heaviest items at the bottom. This way, your rolled container will not become top-heavy and will still be easy to handle. Especially for double-sided rolling containers without a stable back door, it is advisable not to place heavy items on the first or even second floor when using shelving, as this can push the rolling container out of its environment. Most of our rolling containers have a dynamic load capacity of up to 500 kg. If racks are available, such as the Danish cart in the picture below right, please note the maximum load specified for the racks.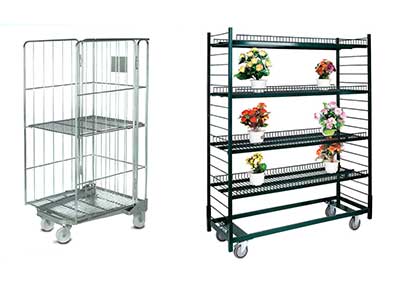 What is edge racking loading capacity?
Edge rack loading capacity is the weight that a pallet can support when stored on a pallet racking system. Since warehouse racking usually involves racks that support pallets through only two edges, the racking capacity of a pallet is usually lower than its static or dynamic capacity. The racking capacity also depends on the strength of the warehouse racking itself, which is usually the limiting factor.
The dynamic capacity of a pallet usually represents only a small fraction of its static rating.
In most cases, the static weight capacity of a pallet will far exceed its dynamic capacity or edge racking capacity. This is because, in a static load, the force of the load on the platform remains constant. In a dynamic load, it may change suddenly during acceleration or deceleration, or the weight may shift from one area to another. Pallet jacks and forklifts also exert concentrated pressure on the pallet, rather than uniformly supporting the weight of the loaded pallet. As a result, the dynamic capacity of a pallet typically represents only a fraction of its static rating.
Contact us for more help on carrying capacity
Using Spieth plastic pallets and steel pallets is a smart way to maximize storage space while ensuring safe and easy pallet handling. Their static and dynamic load capacity has been proven in many different conditions, so you can be sure you're getting one of the most trusted platforms on the market.
For more information, send an email to one of our experts, or visit our contact page.
Contact us for a free quote
E-mail : spieth12@spiethstorage.com

Tel : +86 18006010205
Learn More:
Compact VNA Racking:A Good Way to Maximising High SKU Density

How to reduce warehouse aisle width to achieve high density storage?

Industrial Racking Guide - Versatile Storage Solution

Top 5 reasons to choose a mezzanine floor

Several advantages of Radio shuttle racking