Industrial shelving

can meet a multitude of needs when dealing with the diverse storage requirements of a warehouse. Whilst shelving is most suitable for slower moving items, small parts assemblies and carefully selected orders, shelving is a cost effective way to optimize your storage, resulting in faster inventory access and turnaround. Less labor means valuable cost savings in economical and customizable packaging. In addition, your industrial shelving is compatible with automated picking equipment, just like other static shelving options.
The best part of industrial shelving is the modular design that allows you to customize each unit individually, with relatively easy installation and a lower overall cost compared to storage racks. To design your system efficiently, you will need to refer to the detailed information.
What is industrial shelving?
Industrial shelving is a versatile storage solution used in a variety of environments, including retail stores, offices and warehouses. Industrial shelving offers easily adjustable options and most units are compatible with useful accessories. It also comes in a variety of materials, styles and designs to suit different product types, warehouse layouts and budgets.
Over the years, industrial shelving has evolved and now almost all units are made of metal or steel. What hasn't changed is the functionality, as metal shelving has been used to increase visibility and maximize space within warehouses and factories. Durable and sturdy metal shelving helps you maximize floor and vertical space while improving visibility and accessibility.
Main advantages of heavy-duty industrial shelving
Wide range of uses
With heavy-duty industrial shelving, you can choose the material you need based on your needs, budget and product. Options include metal, wire decking.
Metal shelving will withstand humidity, water and roughness. What's more, this structure can also mitigate fire problems. Likewise, wire decking is another alternative that can withstand humidity, water and roughness. It is especially suitable for bulky items that will not be affected by holes.
Accessibility
Heavy-duty industrial shelving is designed to allow access to stored goods from both sides and ends of the shelves. This model is critical for companies seeking to increase employee productivity by reducing the time wasted retrieving products from storage.
Subsequently, the shelving allows for better use of forklifts and the performance of critical warehouse operations such as scheduling, transferring and secure storage. Likewise, fixtures make the best use of space, thereby improving organization.
Customizable Heavy Duty Industrial Shelving
Heavy-duty industrial shelving is not one-size-fits-all. That's what makes customization such an important factor when considering storage solutions. Industrial shelving can be customized to fit the height and product needs of your warehouse. In addition, the layout can be customized to maximize security and protect fragile goods that may require special attention.
Space Optimization
Heavy-duty industrial shelving is great for saving space. Certain builds allow you and your team to utilize vertical space for storage, rather than floor space. Without vertical storage, you will need more floor space to ensure all products fit.
In addition, heavy-duty industrial shelving creates space for you to organize and store products vertically and easily take them down when you need them. This solution not only saves storage space, it also saves a lot of money.
Durable
Large-scale storage of products of different weights requires the weight capacity and robustness of heavy-duty industrial shelving. The use of all available space is optimized because the shelving infrastructure opens up the space. For example, double-decker shelving can reach the ceiling, thus maximizing storage capacity. With superior design and construction, these racks are safe commercial investments that are sure to last a relatively long time.
The best industrial shelving for your industry
Below are some common use cases for industrial shelving that we often see. So if shelving in your industry is a common tool for you, we can help you find the right choice based on our experience and your needs. Let's take a quick look at some of the industries that typically require shelving.
Heavy Duty Food and Beverage Shelving
Restaurant and food industry suppliers are always on the lookout for the perfect heavy-duty industrial shelving. But you'll find it hard to find shelving that can withstand refrigerated conditions, wet loads and dynamic product changes. If you're looking for the right shelving for your F&B business, wire shelving is a fairly common choice.
Wire shelving is a great choice for many different industries and environments. Typically, you can find such shelving in the food service industry, where perishable products benefit from open wire construction and free air circulation.
Automotive Shelving
In an automotive store, parts storage is a very important part of daily operations. With so many small parts, different SKUs and the need to quickly navigate products, matching the perfect shelving to your space every time you need to find a specific part is the key to keeping things running smoothly.
Steel shelving can be very versatile. Whether you need to store auto parts, documents or a variety of other products, this type of shelving can help you make the most of your warehouse space.
If you are looking for the best industrial shelving for your auto parts store or store, you will need to source durable shelving that is perfect for small parts storage. Riveted shelving is a good choice. Steel shelving can also provide excellent storage solutions for smaller parts and carton storage. Since most units are adjustable, changing the system to match a new part or product is quick and easy.
Industrial shelving for grocery stores
If you're looking to add some extra storage space to your grocery store, we have a few options you should consider. The first is steel shelving. Not only is it the perfect choice if you're looking for an affordable solution that still meets durability and flexibility, but it's one of the more common types of shelving you'll see in the industry.
Find the best heavy duty industrial shelving at Spieth.
At Spieth, we sell a wide variety of high-quality new metal industrial shelving systems and commercial shelving units to meet your storage needs. We also offer turnkey services so our staff can help you design and guide the installation of your commercial industrial shelving system to optimize your layout and workflow.
For more information on industrial shelving storage systems or to request a quote, please contact us at spieth12@spiethstorage.com.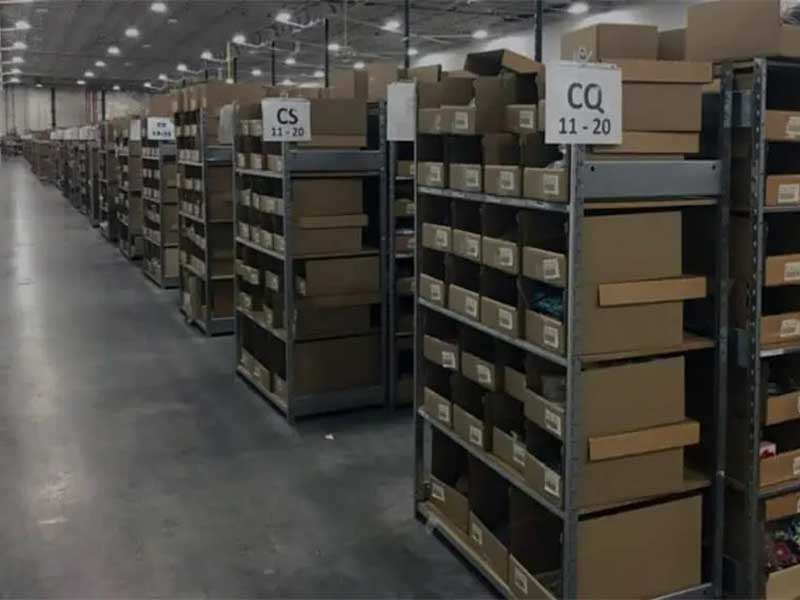 Learn More:
Top 5 reasons to choose a mezzanine floor

Several advantages of Radio shuttle racking

Three common types of warehouse material handling equipment

How to maximize storage space in warehouse facilities?

Metal Storage Racking: How To Benefit The Warehouse