Material handling equipment typically includes a variety of vehicles, tools and storage equipment is a fundamental element in a logistics facility. All warehouses require systems to move items from the receiving area to the warehouse and then to the dispatch area.
There is a wide variety of handling equipment on the market that can be adapted to any type of area or operation in the warehouse. To choose the conveying solution that best fits each logistical requirement, you need to take a deeper look at your available options.
In a warehouse, material handling equipment is critical - to a large extent, the efficiency of your facility depends on it. Choosing this equipment wisely will speed up operations, reduce logistics costs and minimize the risk of accidents.
What equipment is needed in a warehouse?
In most cases, all warehouses require equipment to help employees lift and move products around the warehouse. There are various types of material handling equipment in the warehouse that your employees will need to use on a daily basis.
They need to be able to safely lift as many items as possible at one time. Once they have these items, your workers will need a sturdy and reliable place to put them so they are not on the sidewalk. Finally, once someone has purchased the item, your workers will need to be able to remove these items from storage and prepare them for shipment.
Storage facilities
It doesn't make sense to have a lot of products if you don't have the right place to store them. You need to make sure you have enough storage space and that you have the right amount of space to allow room for shipping. Check out these warehouse storage solutions.
Pallets: Pallets are a great way to easily store large amounts of product. You stack products on pallets and use a forklift to move them around. Pallets are also great for transporting large amounts of heavy items at once.
Pallet Racking: If you use pallets more than other storage equipment, you should consider using pallet racking. These racks are a great way to keep your warehouse organized and pallets easily accessible.
Stacking frames: When you stack items on pallets, they tend to support the weight of the items on top of them. However, in the case of fragile items, you will need to use stacking frames so that you can stack fragile items safely together.
Racks, bins and drawers: In most cases, you will rely heavily on the use of racks, bins and drawers to keep your products organized and avoid any foot traffic. You will need to use products that are easy to assemble and can support higher weight limits. You can stack some of these units as high as the ceiling, so you'll need to make sure you have high enough lift units.
Warehouse Lifting Equipment
In a warehouse, most of your workers will spend time lifting and moving products from one area to another. Moving products quickly and efficiently will increase productivity and make your warehouse operation run more smoothly overall. To prevent serious injuries and make transportation as quick and easy as possible, you will need to purchase a variety of warehouse lifting machinery.
Trolleys: Trolleys are the most popular form of manual transportation in warehouses. You slide the end of the trolley under the item you need to move, tie it down with a ratchet strap, and lift the wheel to your destination.
Pallet truck: A pallet truck is a cheaper manual way to move pallets around the warehouse. If most of your pallets are on the floor, a pallet truck can be a great way to move them around the floor.
Forklifts: Forklifts are one of the best pieces of equipment you can have in any warehouse. They can easily lift and store items on higher shelves, and you can transport them very easily.
Side loaders: Side loaders store and lift items from the side instead of the front. If you have items that are much longer than the width of the shelves, you will need a side loader to transport them longitudinally.
Walking stacker: A walking stacker works similar to a forklift, but instead of taking you where you need to go, it walks. These machines still have the functionality of a forklift, but they require more human impact to get them where they need to go.
Storage and Packaging Equipment
Once your items are in the delivery truck, they are out of control. Packing your items properly for delivery is critical to protect you from accidental damage. To ensure your items arrive at their destination in the same condition as they left, you will need to purchase the proper packaging equipment, such as
Packing Stations: For some smaller items, your staff will need a secured station to pack and box the items needed for delivery. These convenient stations should have everything your employees need to safely package items. Each workstation will need a set of supplies to make it as efficient as possible. Some supplies to consider are packing tape, bubble wrap, boxes, tape guns, and wrapping paper.
Industrial Scales: Before shipping items, you need to create packing lists for them and need accurate weights. If you are only concerned with small, light items, you may choose to use a traditional digital scale. However, for larger items, you will need some industrial scales that can accurately display the weight of each item to ensure proper shipping.

Stretch wrappers: Pallets require more skill when it comes to packaging. You need to secure items to the pallet and prevent them from moving during transport. Stretch wrappers use stretchable plastic film to secure items as securely as possible to the pallet. It will prevent them from falling and being damaged during travel.


Contact Spieth Storage today for warehouse material handling equipment
Using the right material handling machines in your warehouse can prevent accidents and increase employee efficiency. You can choose from a variety of different storage, packing and lifting equipment to ensure the safety of your employees and the proper handling of all your products.
To keep you and your warehouse organized, trust Spieth Storage and our selection of high-quality equipment, racks and shelving to help you get the job done.
Contact us for a free quote
E-mail : spieth12@spiethstorage.com
Tel : +86 18006010205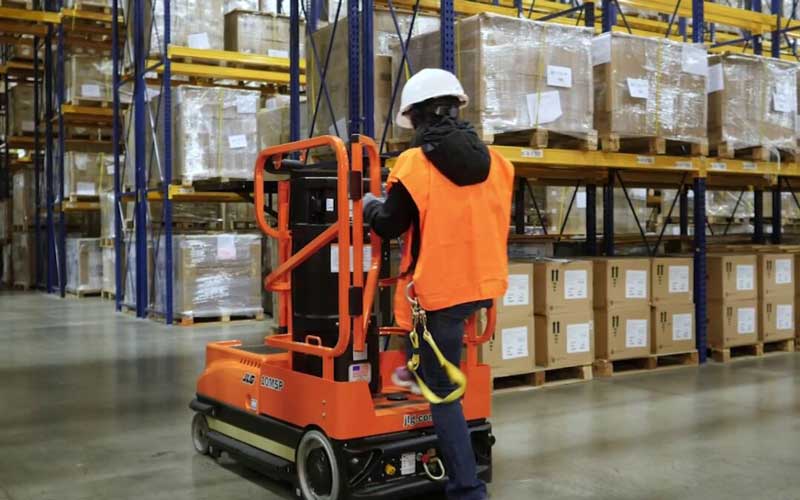 Learn More:
How to maximize storage space in warehouse facilities?

Metal Storage Racking: How To Benefit The Warehouse

How to set up the steel platform safety

Wire decking: The Definitive Guide

Three important tips for adding mezzanines to your pallet rack