Introduction
This is the complete guide to Pallet Rack Wire Decking in 2022.
In this in-depth guide, you will learn.
What is pallet rack wire decking?
Why does every warehouse need a pallet rack wire deck?
Different kinds of pallet racking deck system
The benefits of pallet rack wire decking
The different types of pallet rack wire decking
How do I choose pallet rack wire decking?
So if you are running a warehouse, then this guide is for you.
Let's dive in.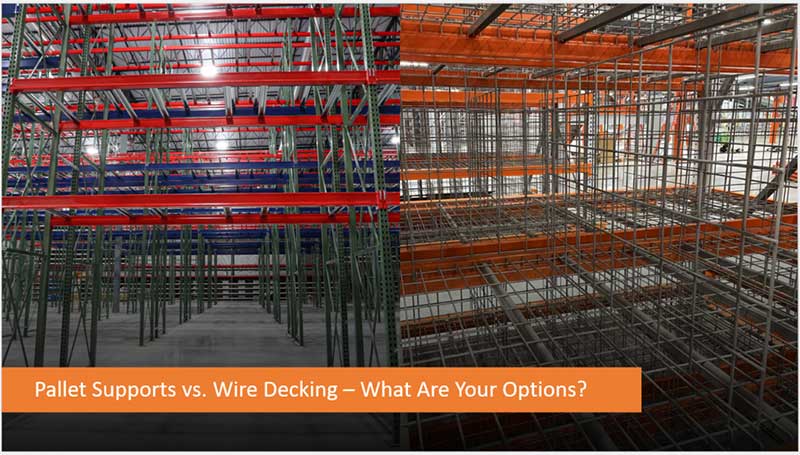 What is pallet rack wire decking?
The wire deck is a common pallet racking accessory. It is made of metal mesh and is designed to be securely mounted between the front and rear rack beams. It forms the basis for holding stock, usually non-palletized products, boxes and cartons, and prevents items from falling off the racks.
Why does every warehouse need a pallet rack wire deck?
To run a warehouse and manage goods safely and efficiently, it may not be enough to rely on a simple pallet rack. These systems usually consist of a rear beam and a front beam, but placing pallets directly on the beam can be a safety hazard. If the weight is not evenly distributed between the two beams, the pallet may fall between the beams.
In the case of a wooden pallet, the wood may also break when there is nothing underneath the pallet to support it. This increases the risk of workplace accidents and damage to stock. Items can fall off or off the shelves, potentially injuring workers.
Providing your facility is like most warehouses, you may have increased your inventory in the last few years. 2022 saw an average of 13,985 SKUs in the warehouse, up from 13,130 the previous year. This trend is likely to continue as warehouses and retailers attempt to diversify their inventories in the face of uncertainty.
As your business continues to expand, you may find that certain items and containers do not fit on the pallet. Smaller items and containers may also slip through the cracks. If you manufacture goods on site, you will also need to organise your supplies and materials into parts boxes and totes, preferably on stacking racks, so that your workers can quickly access the items they need. Using more products and materials means investing in different types of containers. It also means making your warehouse more versatile.
To solve these problems you need to invest in so-called pallet racking decks. A deck is a common pallet racking accessory. Essentially, this material covers the gap between the front and rear beams, creating a flat, even space for you to store additional products and containers.Decking transforms your stacking racks into reliable shelving units, so you can store almost any type of container and item on the market today.
Different kinds of pallet racking deck system
A number of different types of decking materials are available on the market today, some more effective than others. Your choice of the right material depends entirely on how you use the stacker and how much you are willing to spend on new supplies and materials.
Simple 2 x 4 plywood is often the cheapest option. You can line them up in rows on beams to create an even shelf space. The problem with plywood, however, is that it is not very durable. Wood can only hold so much weight. This may work if you only need to store lightweight items and materials such as fabric or plastic. Wood is also extremely flammable. Consider choosing a more durable material to protect your stock in case of an emergency.
You can also use metal pallet brackets or crossbars that look like wooden 2 x 4s to create more shelf space. They extend across the crossbar like plywood but without the added fire hazard. Pallet brackets also offer better load-bearing capacity, but they are much more expensive.
Both options leave cracks between the two, which can still put products at risk, especially if you are storing small, valuable items or supplies that can be easily lost.
Metal grating is also popular in certain industries. The grating slides onto the stacking frame to ensure a secure installation. This method offers the greatest load-bearing capacity but is also often the most expensive.
If you are looking for a decking material with excellent load bearing capacity but not too costly, we recommend using wire decking instead of pallet racking. The mesh reduces the amount of empty space between the beams, so your product is less likely to fall through the cracks. In most cases the metal is also wrapped around the beams for a firmer fit.
The benefits of pallet rack wire decking
● Reduce the risk of dropping products or materials
● Prevent poorly positioned pallets from falling
● Allowing the use of lighter duty pallets (e.g. corrugated pallets) or substandard goods that might not otherwise fit into pallet racking
● Improves sprinkler efficiency in fires compared to solid plywood or chipboard decking, or prevents burning pallets from falling to the floor in open pallet racking systems
● Provides inventory visibility
● Easy to install
● Galvanised material resists rust and corrosion
● Eliminates problems associated with timber safety boards, such as movement, drops and the accumulation of debris and dust
● Does not allow dust to collect
The different types of pallet rack wire decking
You can choose from a range of different grid types and styles depending on your storage needs. These include
Flared Access Deck
This is where the mesh is wrapped around the edge of the beam and the support rods below are spread and located at the top of the beam.
External Waterfall Deck
Like Flared Channel, the support rods below are expected to be located on the inside of the beam. The webbing remains wrapped around the outer edge.
Internal waterfall deck
This is when both the wire mesh and the support bar below are placed on the step of the beam.
Inverted Channel Deck
The mesh remains wrapped around the outer edge of the beam, but the support beams below are turned over and cannot be accessed from the top. This tends to be the most common choice for the food and beverage industry.
Flush Deck
This is like an internal waterfall deck with only the wire mesh flush with the edges of the support beams to give a flat surface. Both the wire mesh and the support bar rest on the steps of the beam.
Upturned Deck
The wire mesh extends to the edge of the beam before turning upwards. This provides support for products and containers that may slide to one side. You can also use this style as you would a wire basket to place large items directly on the shelf.
How do I choose pallet rack wire decking?
Now that you understand how these systems work, it's time to choose a terminal block for your product. Use this guide to find the right style for your facility:.
Sizing
If you already have stacked shelving or plan to buy some, you need to make sure that the wire mesh fits the shelving system you have chosen. First, you will need to measure the length of the pallet racking beams. Then, measure from the outside of one end of the rack to the outside of the other end of the rack at the same height. Now measure the width of the top of the beam. If available, measure the width of the beam step. Box beams and structural beams usually do not have steps. Depending on the length of the beam, you may need to fit more than one wire plate to each shelf.
Overall, the depth of the wire plate must match the depth of the pallet rack frame. Common depths include: 36", 42", 44" and 48".
Common widths for wire surfacing include.
46″ - for use with 4ft, 8ft and 12ft beams
52″ - for use with 9ft beams
58″ - for use with 10ft beams
Weight limits
You also need to ensure that your decking is suitable for your products and containers. Most wire decking has a weight limit of 2,500 lbs.
Remember that wire bridges are designed and rated for Uniformly Distributed Load (UDL), which means that the weight is evenly distributed over the item or container. The UDL is established when the load is set over most of the deck surface and within 2 inches of the front and rear load beams.
If any of your products or containers do not fall into the UDL category, you will need to use a custom line plate. This is when the weight is concentrated at one or more points rather than evenly distributed across the rack.
Condition
If you are buying used decorative materials, make sure you find a reputable seller with a long history in the supply chain or storage industry. Take some time to clean and inspect the wire mesh to ensure it meets industry standards.
Flue guards
You may need additional fittings when using mesh wire decking. Many facilities will place flue guards between shelves or back-to-back shelving systems to increase airflow and prevent items from falling through cracks. You can also use suspended or freestanding dividers to divide space on the racks. This makes it easy to slide plastic totes onto the shelves.
Getting your racks to work properly
Having the wrong type of decking or racking can make even the best

pallet racking

less than ideal. The wire mesh decking you choose is just as important as the type of racks you choose to install in your facility.
You should work with your provider to choose the option that makes the most sense for your facility. It may make sense to use different styles in different parts of your facility.
Looking for wire decking for your warehouse? Spieth Storage is the best place to find quality pallet racking and other storage solutions for your warehouse.
Contact us for a free quote
E-mail : spieth12@spiethstorage.com
Tel : +86 18006010205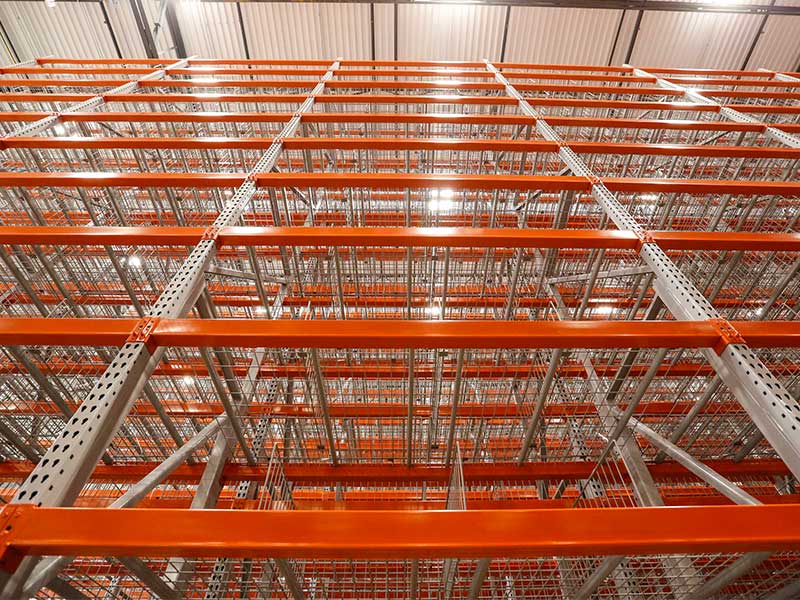 Further Reading:
Three important tips for adding mezzanines to your pallet rack

Choose shelving systems to increase the storage capacity of warehouse

What are the requirements of heavy-duty shelves for ground?

How to choose the right beams and frame for your racks?

How to safely and easily disassemble your pallet rack?