According to the actual situation and specific requirements, the steel platform can be designed as a single floor or a multi-floor, and the multi-floor is usually 2-3 floor. Different with other types of storage shelves, the steel platform will have people or pallet jack moving on it. Therefore, we will also pay more attention to the safety of this kind of rack.
1.The steel platform should be equipped with a load limit sign, especially the steel platform with hydraulic lifting channel, and the limit load should be marked in a prominent position;
2.The placement point of the steel platform and the upper tie point must be located on the building, and shall not be set on construction equipment such as scaffolding, and the support system shall not be connected with the scaffolding.
3.The horizontal angle between the wire rope and the channel should be 45 degrees to 60 degrees.
4.The tensile strength of the beams and columns of the tensile nodes on the upper part of the steel platform should be checked to ensure the safety of the buildings and channels.
5.When using a snap ring on the steel platform, the hook should not be directly hooked to the channel ring.
6.When installing the steel platform, the steel wire rope should be fastened with a special hook. When using other methods, there should be no less than three buckles. The wire rope around the acute angle of the building should be lined with cushions, and the outer opening of the steel platform should be slightly higher than the inside.
7.Protective fences need to be installed near the steel platform, and fences need to be installed when necessary to prevent people or goods from falling;
Spieth Racking as a professional manufacturer of racks with over 20-year experiences in racking and several talented designers to design the racking system as your request. Spieth is a manufacturer and supplier of a wide range of industrial and commercial storage racking system and materials handling equipment. If you have any inquiry related to racks and shelves, please feel free to contact with our Spieth Sales team. We are also looking forward to being your reliable supplier in the near future.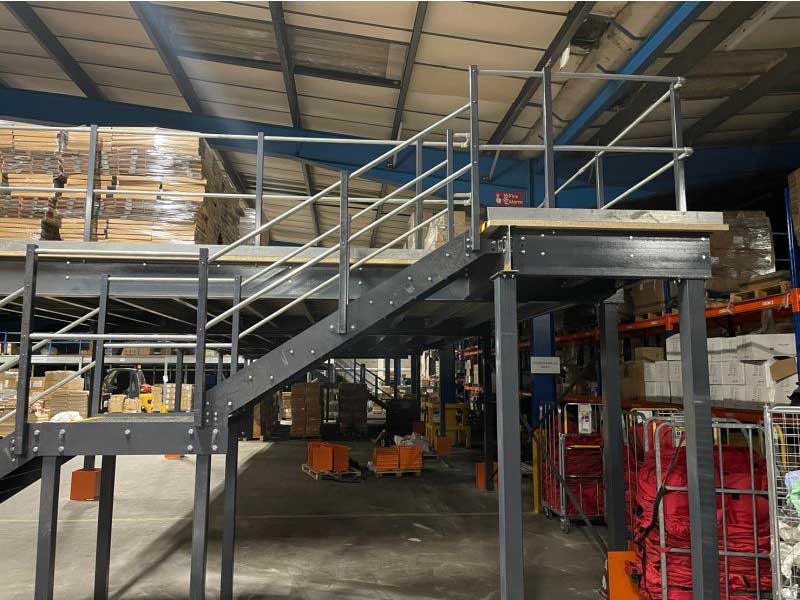 Further Reading:
Wire decking: The Definitive Guide

Three important tips for adding mezzanines to your pallet rack

Choose shelving systems to increase the storage capacity of warehouse

What are the requirements of heavy-duty shelves for ground?

How to choose the right beams and frame for your racks?