Spieth Racking is quite popular among its customers with its own light duty shelving, especially the bolt-free shelving. Bolt-free shelving is jointed together with rivets and can be fitted at its length, width, and height randomly. This type of shelving has a nice looking, fast and easy to disassemble and assemble without special tools. The height can adjust on 38.1 centers. And normally the bolt-free shelving can be equipped with steel shelf, wooden shelf and wire mesh decking.
What is the difference between those shelf options?
MDF board.
It is very popular option for our customers, and the MDF board is the cheapest option. The max loading capacity per shelf can hold up 175kg. It is easy to reduce the volume for the rack.
Steel board
Steel board, the second popular option for the customers. It is strong enough to hold the goods. The finish is powder coated which is very durable.
Laminated board
Laminated board, which is very beautiful and quite popular for customer to display goods. And it can be waterproof, and it is easy to wipe the water.
Wire mesh decking
Wire mesh decking, which is very rare for our customer to use, because the post and beams can not be packed together, the wire mesh decking will be packed together, so the final volume will be a little huge.
Most popular styles
The bolt-free shelving with MDF board is the lowest price among those options. And 400x900x1830mm, 450x900x1830mm, 300x600x1450mm, 300x900x1450mm are the most popular sizes among our customers.
Spieth Racking as a professional manufacturer of light duty shelving and heavy duty racking with over 20-year experiences in racking and several talented designers to design as your request. Spieth is a manufacturer and supplier of a wide range of industrial and commercial storage racking system and materials handling equipment.
If you have any inquiry related to racks and shelves, please feel free to contact with our Spieth Sales team. We are also looking forward to being your reliable supplier in the near future.
Contact us for a free quote
E-mail : spieth12@spiethstorage.com

Tel : +86 18006010205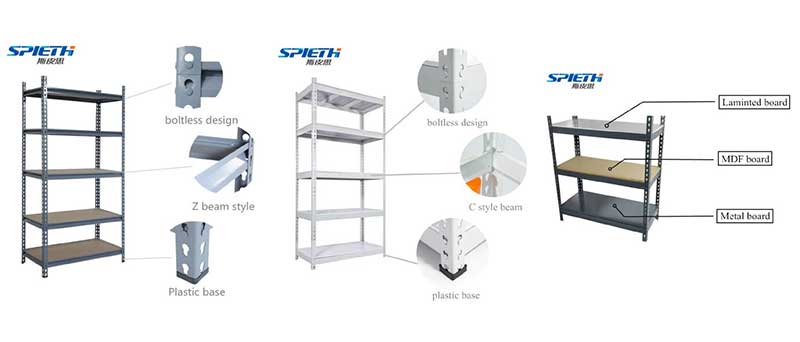 Learn More:
What are the load capacities and how do they work?

Compact VNA Racking:A Good Way to Maximising High SKU Density

How to reduce warehouse aisle width to achieve high density storage?

Industrial Racking Guide - Versatile Storage Solution

Top 5 reasons to choose a mezzanine floor