Are you still struggling with the increasing number of orders pushing your warehouse capacity to the limit and the amount of available space continuing to shrink?
One viable option we recommend is Very Narrow Aisle Racking VNA racking that can help you get over the hump.
VNA racking, also known as very narrow aisle racking, is designed to completely maximize warehouse storage capacity. VNA racking is a high capacity storage system with unrestricted access to pallets.
In warehousing, every square meter of space should be made to create as much profit as possible. One of the best ways to achieve this goal is to make the most of every cubic meter of space. This means combining narrow aisles with maximum racking height.
VNA Rack Advantages
VNA racks offer many advantages when used in a proper setup. These racks use selective racking, which provides flexibility in design, set-up and pallet storage. Pallets are also very accessible, and VNA racks are most commonly set up in manufacturing, general warehousing, retail, and of course where floor space is required.
Space and efficient picking are key considerations when investing in VNA racks. Companies that need more space and cannot add more floor space through construction or relocation should consider VNA racks. 30% to 50% growth has been realized by most users of VNA racks, but each application is different.
Another advantage of VNA racking is that it causes less damage to pallets during handling. VNA trucks typically move a little slower than standard counterbalanced trucks, but being a guided handling system means it is more accurate and less susceptible to human error. VNA trucks are much taller than standard FLTs and therefore support full utilization of vertical storage capacity.
Why Choose Spieth
Spieth Storage has extensive experience in designing VNA racking systems that make the most of a customer's cubic footprint. In fact, Spieth is a pioneer in working with forklift manufacturers to provide racks that work with VNA conductor trucks.
Spieth can help you with VNA racking to greatly increase picking surfaces and pallet locations in existing spaces or limit the space you need when planning a new building. Designing to each customer's storage and retrieval requirements is our top priority. Contact us today to maximize your space and change your SKU capacity.
Contact us for a free quote
E-mail : spieth12@spiethstorage.com

Tel : +86 18006010205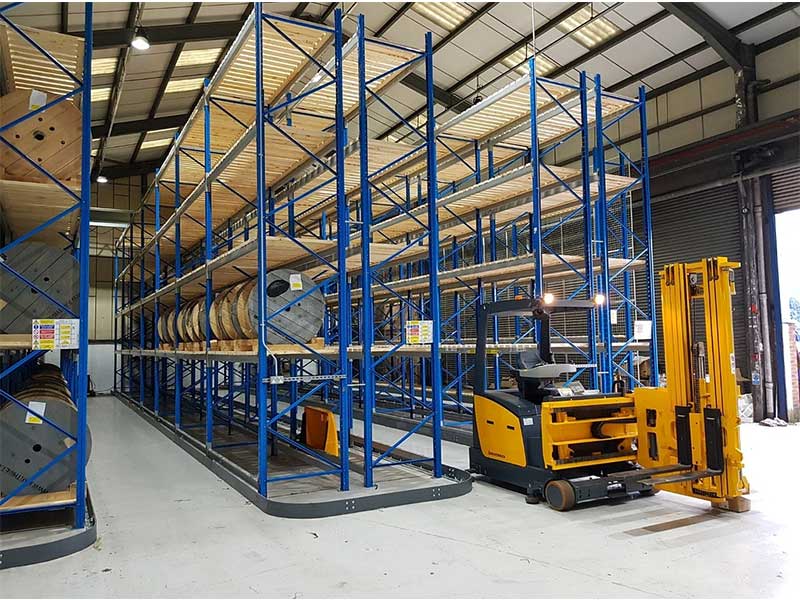 Learn More:
How to reduce warehouse aisle width to achieve high density storage?

Industrial Racking Guide - Versatile Storage Solution

Top 5 reasons to choose a mezzanine floor

Several advantages of Radio shuttle racking