Logistics trolley, also called roll container trolley or cargo storage roll container, is a unit mobile container equipment equipped with four casters to transport and store materials. Foldable roll container widely used in supermarket, big warehouse, factory producing room and large producing line. With wheels and side plate, they can be moved around easily. What's more, we can see the products clearly when they stored in the trolley. When moving around, the side plate can protect the goods from falling .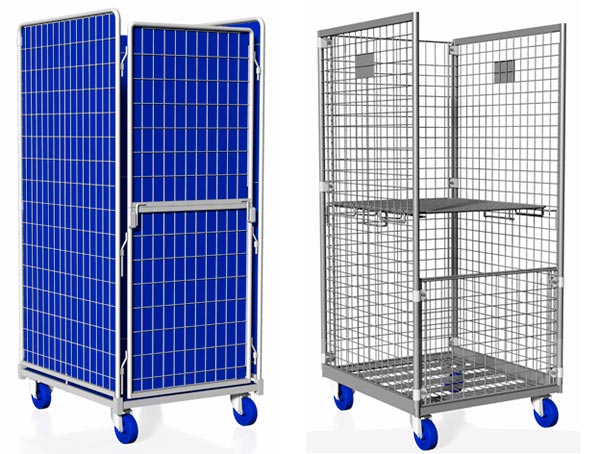 Structure: The structure includes the base plate, wheels, side plates, back plate, and middle plate.
Features:
1: The wheels are usually designed as two directional wheels and two universal wheels to facilitate manual promotion. The logistic trolley loading capacity can up to 500-800kg.
2: Middle steel plate which is easy to produce and process. The steel plate can be cut, bent, and hemmed to further process the surface, making it convenient and beautiful to produce. In addition, its surface has a high level of friction coefficient and high strength. Load-bearing products and products have a certain degree of protection ability, loss prevention and fall prevention, etc. The disadvantages are that they are heavier and more expensive than expanded steel mesh;
3: Middle grid board, which is easy to produce and process. It can cut, deep bending and other surface processing to make it convenient and beautiful to produce. In addition to the steel plate, its production cost is low. Light weight, it should be light and fast in practice. The disadvantage is that it cannot carry small objects and heavy load logistics, and it will fall and collapse;
4: The layered design makes the number of objects carried by the logistics trolleys on each floor consistent, easy to store and turn around, quantitative management, and clear. The materials are transported by line quickly and correctly without errors. The assembly line is convenient and convenient to improve work. Efficiency, easy to put and easy to use greatly improves the manual operation ability, thereby reducing the cost of production logistics;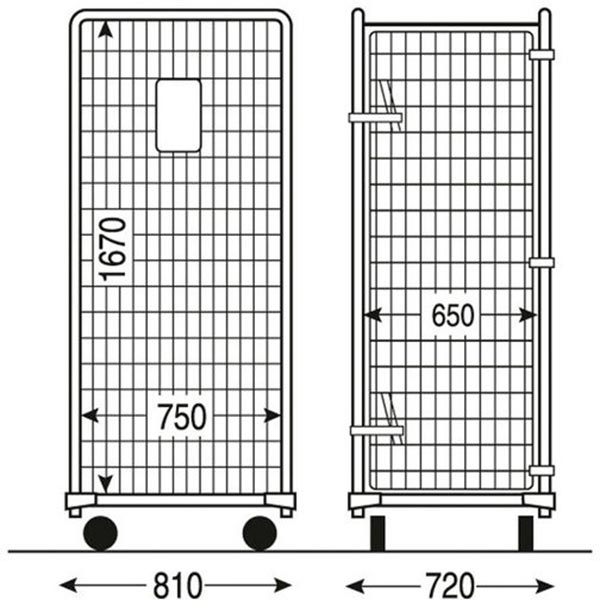 Advantages:
1. The surface is galvanized and has excellent anti-corrosion performance and meets international environmental protection requirements.
2. Time-saving and labor-saving handling of goods; merchandise display, convenient and eye-catching.
3, large storage space, flexible space applications, foldable collection does not take up space.
4. It is used in retail industry, logistics distribution industry and processing manufacturing industry.
6. Quick and easy disassembly, foldable storage, not occupying space, save more than 1/4 of storage space;
7, professional design, non-standard custom design, foldable design can stand up and highlight the maneuverability and flexibility of the trolley, easy to operate, save time and effort, save logistics costs and improve corporate image.
Standard size
: 800*600*2000,715*840*1570,800*600*1800
Application Area
The

trolley container storage

is widely used in the logistics industry distribution and processing manufacturing industry. In small and multi items, logistics trolley container is particularly important, has many advantages and brings a lot of convenience for enterprise warehouse.