Wire mesh decks
are made by cold wire steel and support channels. With the bending edge, they can be put on the beam of racks, and the support channel will increase the loading capacity of mesh decks to 1-2ton. When the pallet racking system is not able to use steel panel, wire mesh decks will be the best choice.
All the size are customized according to the specifications of pallet rack and the required loading capacity. Wire mesh deck product complies with international environmental regulations, with good fire resistance and water resistanc, also have moisture resistance and rust resistance. Suitable for step beam and box beams, suitable for warehouses with higher fire rating.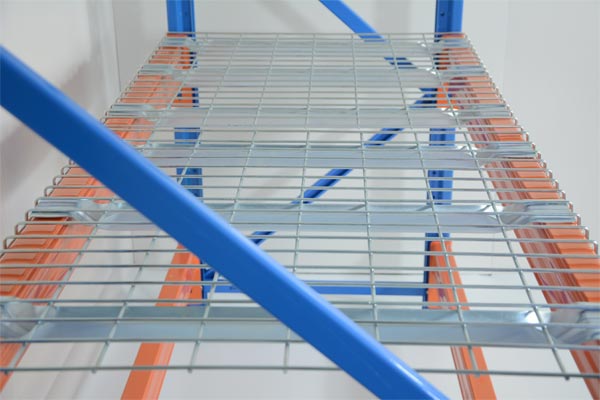 Product description:
Wire steel: Dia 3mm~5mm
Surface treatment: Galvanizing and powder coating.
Mesh deck grid: 50*50mm, 50*100mm,25*50mm.
Support channel: Flared channel, Inverted Flared channel, U Channel, Inverted Channel and upturned waterfall style channel.
Thickness 1.0 to 3.0mm
Specifications: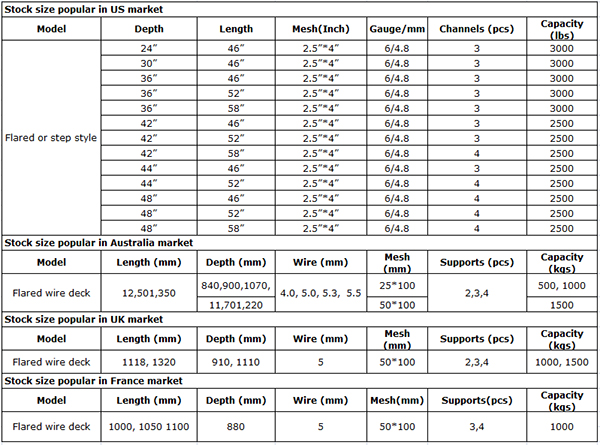 Feature & Advantages
1: Efficient visual management.
2:More stable structure, strong bearing capacity, more easier to store goods and clean the racks.
3: Bearing capacity range from 1 to 2ton.
4: No need to use extra tool to install the mesh decks, just put directly between the beams.
5:Goods can be put on the decks without other pallet support.
6: Prevent cargo from falling
Packaging & Shipping