What is galvanized wire mesh decking laminates? They are made of high quality cold-drawn wire spray welded to form a mesh of 50*50, reinforced with reinforcing bars at the bottom and bent on both sides to be placed on top of the shelf beams to ensure the safety of the goods. Galvanized mesh decking laminate can be loaded up to 3T in general, and the surface treatment is galvanized and plastic spraying.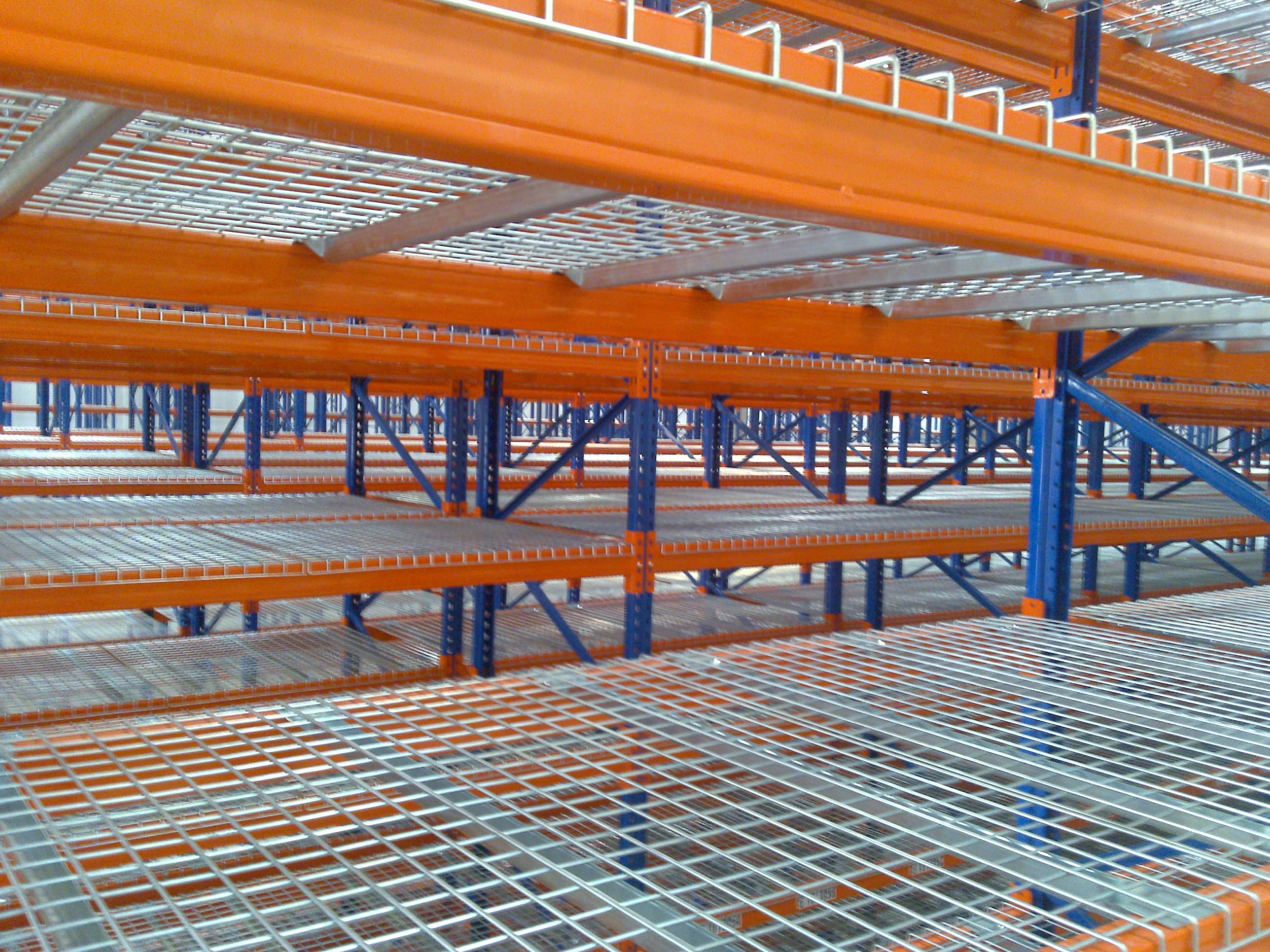 Features of galvanized wire mesh decking laminate
1. Visualization for easy management
2. Mesh type laminate is strong, strong load-bearing capacity, easy to clean and store loose goods
3. Installation of mesh laminate can be used for 1-3T goods storage
4. No tools are needed to install the mesh laminate, it can be placed directly between the beams
5. Manual storage, no need for pallet storage
6. Mesh laminate design prevents goods from falling down from above
7. Installation of mesh type laminate can make the size of the pallet diversified on the shelves.
8. Using strong iron wire welded together and the bottom is reinforced by U-shaped channel steel welding and pulling, the structure is stronger.
9. Use with heavy-duty shelves to save cost and place securely.
Details of galvanized wire mesh decking laminate
Stock size popular in US market
Model
size(D*L)
Weight(lbs)
Mesh
Gauge/mm
Channels
Capacity(lbs)
Flared or step style
24" * 46"
12.4
2.5" * 4.5"
4/5.3
3
3000
30" * 46"
15.6
2.5" * 4.5"
4/5.3
3
3000
36" * 46"
18.4
2.5" * 4.5"
4/5.3
3
2700
36" * 52"
19.6
2.5" * 4.5"
4/5.3
3
2500
36" * 58"
21.8
2.5" * 4.5"
4/5.3
3
2750
42" * 46"
21.5
2.5" * 4.5"
4/5.3
3
2800
42" * 52"
23
2.5" * 4.5"
4/5.3
3
2500
42" * 58"
27.5
2.5" * 4.5"
4/5.3
4
2800
44" * 46"
23
2.5" * 4.5"
4/5.3
3
2500
44" * 52"
27
2.5" * 4.5"
4/5.3
4
2600
48" * 46"
25
2.5" * 4.5"
4/5.3
3
2500
48" * 52"
31
2.5" * 4.5"
4/5.3
4
2500
48" * 58"
33
2.5" * 4.5"
4/5.3
4
2500
60" * 46"
38
2.5" * 4.5"
4/5.3
4
2500
Stock size popular in Australia market
Model
Lengh(mm)
Depth(mm)
Wire(mm)
Mesh(mm)
Support(pcs)
Capacity(lbs)
Flared wire deck
12,501,350
840,900,107,011,701,000
4.0 5.0
25*100
2,3,4
50,010,001,500
5.3 5.5
50*100
Stock size popular in UK market
Model
Lengh(mm)
Depth(mm)
Wire(mm)
Mesh(mm)
Support(pcs)
Capacity(lbs)
Flared wire deck
11,181,320
9,101,110
5
50*100
2,3,4
10,001,500
Stock size popular in UK market
Model
Lengh(mm)
Depth(mm)
Wire(mm)
Mesh(mm)
Support(pcs)
Capacity(lbs)
Flared wire deck
100,010,501,100
880
5
50*100
3,4
1000
Step wire deck