What is

Wire container?
Wire container is a kind of storage container widely used in manufacturing enterprises and large storage supermarkets. It is widely used in the temporary storage, transportation, classification and storage of raw materials, semi-finished and finished products. Storage cage is also a special form of packaging, with a similar role to the pallet. But its steel material and mesh, three-dimensional structure and other features determine the storage cage can be three-dimensional loading and unloading, storage and transportation tools, but also can be used for logistics crates, but also for sales tools. The function of warehouse cage has gone deep into the fields of production, circulation and consumption, and has gone through the links of temporary storage, packaging, loading and unloading, storage and transportation, which runs through the whole process of logistics.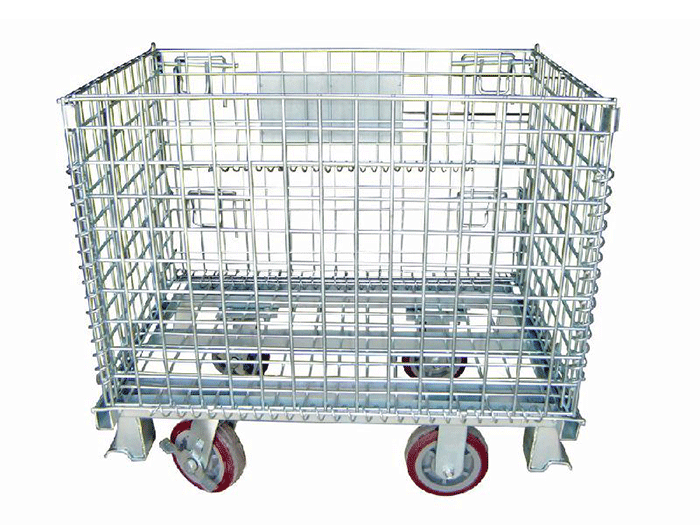 Wire container style
There are many styles of storage cages, such as with wheels, customized with lids, with traction, and custom models used in shelves.
Common sizes of storage cages
●800*600*640 mm
●
1000*800*840 mm
●
1200*1000*890mm
●
Other specifications are available for customization.
The characteristics of the wire container are as follows.
1、Using steel welded by cold rolling hardening, high strength, large loading capacity.
2、Uniform specifications, fixed capacity, easy to store goods at a glance, easy to inventory inventory.
3、The surface is galvanized, beautiful and anti-oxidation, long service life.
4、Adopt international standard, can be used with container, effectively improve the space utilization.
5、It can be stacked four layers high with each other to realize three-dimensional storage.
6、Surface environmental protection treatment, health immunity, turnover, storage and recycling are not polluting the environment.
7、It can be used with forklifts, cattle, lifts, cranes and other equipment for efficient operation.
8, folding structure, low recycling costs, is an alternative to wooden packing boxes.
9、Wheels can be installed at the bottom, and it is extremely convenient to turn around inside the factory.