The mobile loading dock ramps is also called the unloading platform, which is an auxiliary device to realize the rapid loading and unloading of goods. The height adjustment function of the mobile rampallows forklift trucks and other handling vehicles to directly enter the container for bulk loading and unloading, which can realize the rapid loading and unloading of goods, which can reduce the number of enterprises. Labor, improve work efficiency, and obtain economic benefits. The mobile ramphas become the loading and unloading platform of the enterprise. The mobile dock ramp a common structural form at the cargo loading and unloading site. The steel container dock ramp the starting point and end point of the enterprise's cargo transportation, and it is a fast and safe turnover of products and cargo. As for the operation platform, there are currently two types of boarding bridges used by various enterprises, one is a mobile rampand the other is a fixed boarding bridge.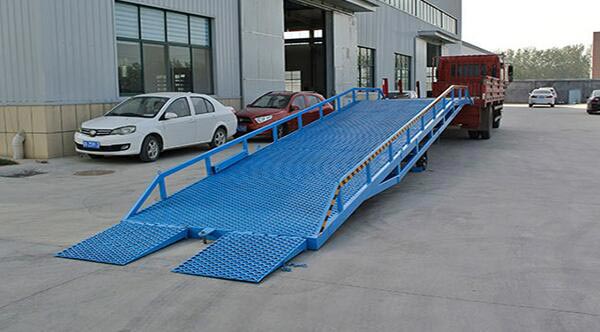 The metal dock ramp is an important part of the company's entire facility process. The loading and unloading platform is the starting point and end point of the material circulation process in the facility. The platform is designed to connect the ground with the rear of the truck during loading and unloading operations. The unloading platform can be adjusted according to the height of the car, so that the forklift can freely enter and exit the truck for safe and smooth loading and unloading operations.
Specifition

The mobile ramp installed on the side of the cargo bed, flush with the ground and side of the cargo bed. The bridge plate of the mobile rampcan be tilted up and down, and the outer end can be higher or lower than the plane of the cargo bed to make it equal to the carriage. There is a flap at the top of the bridge plate, which is automatically placed on the edge of the carriage to make the cargo platform and the carriage transition smoothly.
The high-strength table with steel plate covered with anti-skid steel mesh can not only protect the main frame structure of the

mobile loading dock ramps

, reduce the corrosion of rain and snow and ultraviolet rays on the equipment, increase the strength, and extend the overall service life of the equipment: and the anti-skid performance of this table structure is more excellent , Greatly enhancing the safety of rain and snow weather operations
The manual hydraulic pump is used as the power, and the height of the mobile rampcan be easily adjusted without external power supply. At the same time, according to customer needs, DC power supply can be selected as the lifting power, or imported manual pump can also be used
Randomly configured brake pads can effectively prevent the vehicle from slipping and moving when the vehicle is walking on the √ axle to ensure the safety of the operation.