Steel storage boxes are cost-effective storage equipment widely used in various industries and fields. They provide an efficient solution to organize and manage items, improving work efficiency, and protecting the safety and integrity of stored items.
To ensure durability and environmental friendliness, the steel box undergoes shot blasting cleaning to remove rust and grease, replacing the previous pickling and phosphating process. The box is then subjected to a 180-degree high-temperature baking treatment to make it clean, attractive, and long-lasting.
Steel storage boxes are designed to carry heavier products and can be folded and stacked, maximizing warehouse space utilization. They offer advantages such as low recycling and transportation costs. These storage boxes are widely used in manufacturing and processing enterprises, product warehouses, and logistics storage centers, playing a crucial role in modern logistics storage equipment.
The storage boxes come in various structures, providing convenience and flexibility in usage, and have strong carrying capacities. They can be stacked, moved within an area using forklifts, equipped with casters for mobility, or lifted, moved, and lowered using cranes.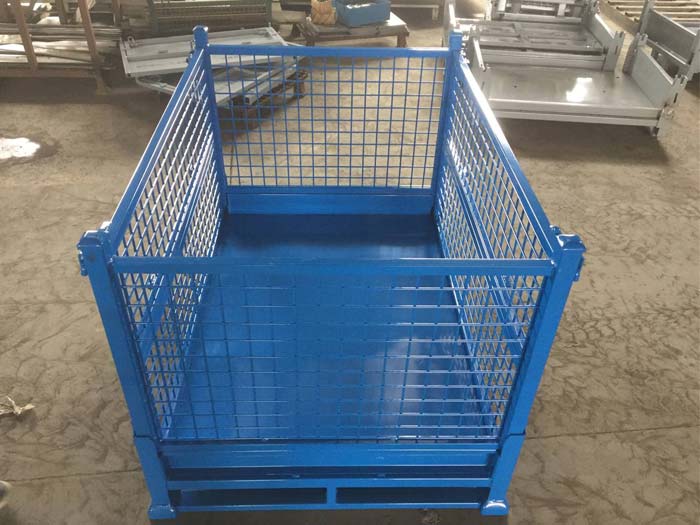 Material box advantages:
1. The welding structure of the square tube greatly improves the structural strength, the multilayer stack is safer, and the service life is longer.
2. Various forms, easy to use, suitable for factory transportation, storage and turnover.
3. Pallet trucks, forklifts, elevators and cranes can be used for transportation, with four stacked layers and three-dimensional storage space.
4. It can be used for logistics equipment, such as transportation, loading and unloading, loading and unloading, storage, storage, etc.
5, Smart door design, easy to pick up when stacking.
6. The special stacking feet make the operation of the forklift more convenient.
7. The surface is treated with electrostatic spraying to prevent corrosion.
8. Can be folded and stacked to save logistics costs and improve warehouse utilization.
9. It can meet the requirements of the forklift, flexible and convenient operation, save labor costs, and improve the work efficiency of workers.
10. Caster boxes have been added to facilitate the manual transfer of materials during the production process.