Steel storage box

is also called steel box, metal turnover box, steel box.
The bottom of the steel box adopts a frame rigid structure, which is formed by welding steel plates and steel feet.
The base is usually welded with a rectangular tube and a square tube, while the cylinder is usually a square tube or angle steel.
The surface treatment of the steel box adopts the shot blasting cleaning technology, which can better remove rust and grease, eliminate the sewage pollution caused by the previous pickling and phosphating, and meet the environmental protection requirements, which is beneficial to the steel export bin.
In the later stage, the 180-degree high-temperature baking technology is adopted to make the product clean, beautiful and durable.
It mainly carries some heavier products and can be folded and stacked to effectively use the warehouse space.
It also has the characteristics of low recycling and transportation costs.
Storage boxes are widely used in manufacturing and processing enterprises, product warehouses, logistics storage centers and other occasions, and are an important part of modern logistics storage equipment.
The storage box has various structures, is convenient and flexible to use, and has a strong carrying capacity.
Usually, they c
an be stacked on top of each other, can be moved in this area with a forklift, equipped with casters on the bottom, or they can be lifted, moved and lowered with a crane.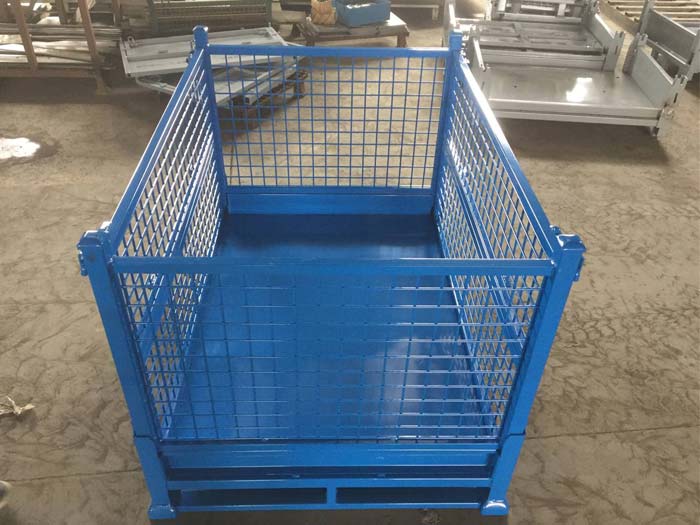 Material box advantages:
1. The welding structure of the square tube greatly improves the structural strength, the multilayer stack is safer, and the service life is longer.
2. Various forms, easy to use, suitable for factory transportation, storage and turnover.
3. Pallet trucks, forklifts, elevators and cranes can be used for transportation, with four stacked layers and three-dimensional storage space.
4. It can be used for logistics equipment, such as transportation, loading and unloading, loading and unloading, storage, storage, etc.
5, Smart door design, easy to pick up when stacking.
6. The special stacking feet make the operation of the forklift more convenient.
7. The surface is treated with electrostatic spraying to prevent corrosion.
8. Can be folded and stacked to save logistics costs and improve warehouse utilization.
9. It can meet the requirements of the forklift, flexible and convenient operation, save labor costs, and improve the work efficiency of workers.
10. Caster boxes have been added to facilitate the manual transfer of materials during the production process.