Introduce of cantilever racks
Cantilever racks for warehouse storage are an essential type of shelving system that provides a practical solution for storing long, circular, and irregularly-shaped goods. They offer single-sided or double-sided cantilever options and are designed with a robust structure to accommodate heavy loads. Used cantilever storage racks are particularly suitable for industrial environments where space optimization is crucial.
One of the key advantages of cantilever racks is their flexibility. They can be customized to suit the specific needs of a business, with adjustable arms and a range of sizes and load capacities available. They can also be configured as single-sided or double-sided racks, depending on the available space and the volume of goods to be stored.
Another benefit of cantilever racks is their heavy-duty construction. Made from high-quality materials such as steel, they are designed to withstand heavy loads and resist damage from wear and tear. This makes them a reliable and long-lasting storage solution that can help businesses maximize their storage space and increase their productivity.
In addition to their functionality and durability, cantilever racks are also designed to be easy to install and maintain. They can be assembled quickly and easily, and their modular design means that they can be easily expanded or reconfigured as a business's needs change over time.
Overall, whether you are looking to store long, heavy, or irregularly-shaped items, warehouse storage cantilever racks are an excellent choice that can help you maximize your storage space and improve your business's efficiency and productivity.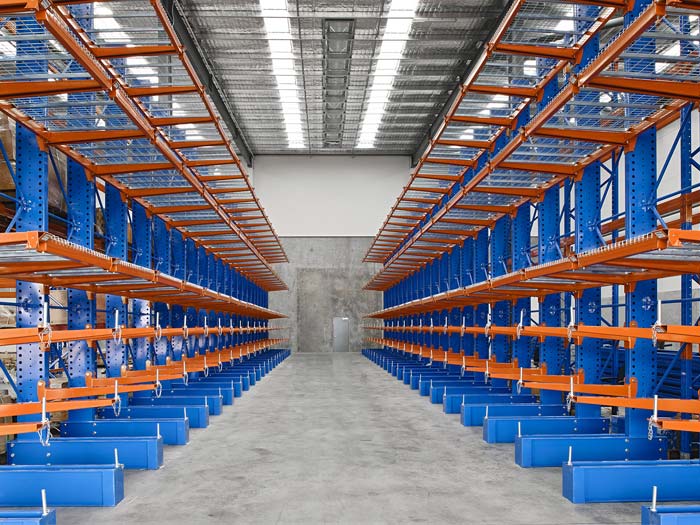 Specifications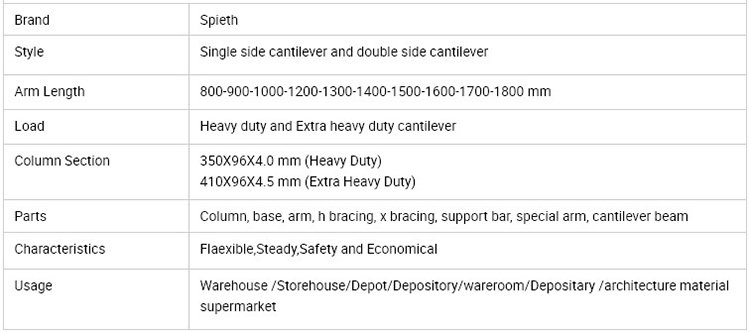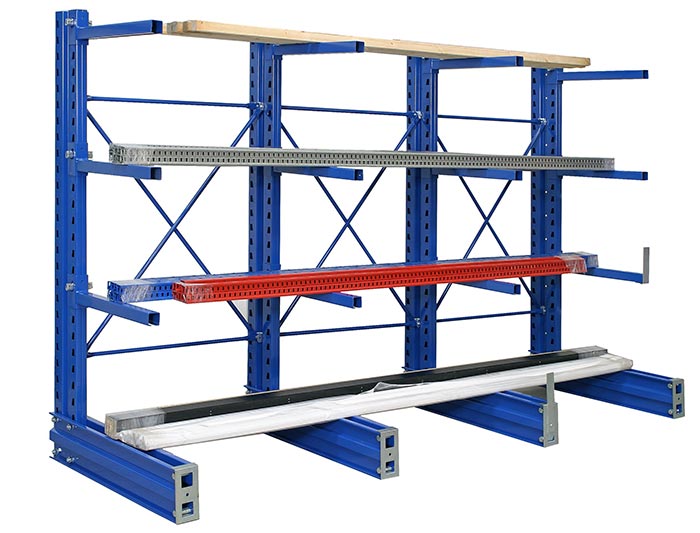 Advantages of cantilever pipe rack
1.
Cantilever storage rack
is an important kind of shelf.
The cantilever steel rack is suitable for storing long materials, circular materials, plates, pipes and irregular goods.
2.The cantilever racks can be single-sided or double-sided. The cantilever shelf has the characteristics of stable structure, good load capacity and high space utilization.
3.The column of cantilever type shelf mostly adopts H-shaped steel or cold-rolled steel, and the cantilever adopts square tube, clasp tube, cold-rolled steel or H-shaped steel.
4.Between the cantilever racking auction and the column, the plug-in type or bolt connection type base and the column shall be bolt connection type, and the base shall be cold-rolled section steel or H section steel.
Application of

cantilever storage rack system
Heavy Duty Cantilevered shelves are very suitable for warehouses with small space and low height. They are widely used in the storage of steel pipes, profiles, wires and cables as well as irregular goods. At the same time, it also plays a very important role in the machinery manufacturing industry and building materials pipe supermarket.