Introduce
Mobile file shelving system book shelves are widely used in archives, libraries and reference rooms. It can be divided into electric and manual according to the size of the driving force. The rolling base is composed of two aluminium parts, which can enter the ramp and prevent accidental tripping. In the interior space between the two parts, place the laminate floor. The basic components are composed of simple fixed module, dual mobile module and simple shutdown module. Spieth mibile file shelving system can accept various customized size of the dense frame system.
More Details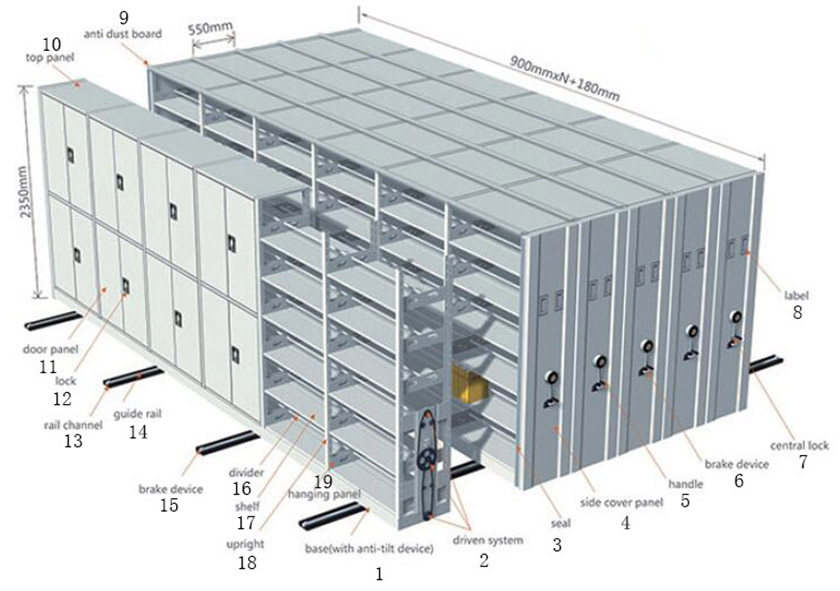 1
base
6
brake drvice
11
door panel
16
divider
2
drive system
7
central lock
12
lock
17
shelf
3
seal
8
label
13
rail channel
18
upright
4
side cover
9
anti dust board
14
guide rail
19
hanging panel
5
panel
10
top panel
15
brake device
Specifications
Length : Customized Length
Width : Customized Width
Height : Customized Height
Color : Customized Color
Application Area
Mobile shelving use of dense shelves is not limited to the storage of archives. More suitable for courts, banks, large shopping malls, schools, enterprise unit reference rooms, sample rooms and other new storage equipment for books, archives, archives, financial vouchers, goods. Comparing with traditional bookshelves, shelves and archives cabinets, the dense shelves are more suitable for the office environment with the present urbanization.