SPACE SAVER HIGH-DENSITY MOBILE STORAGE SYSTEMS
Our manual mobile shelving system can accommodate up to three times the storage capacity of traditional filing and shelving in the same footprint and at half the cost. By placing shelving on wheeled carriages running on rails, the wasted space created by fixed aisles is eliminated. This frees up valuable floor space for more efficient use. No matter the size or weight of your cargo space, we can find a solution for you. At Spieth, we can help you plan your mobile racking so you can focus on what's important, like growing your business.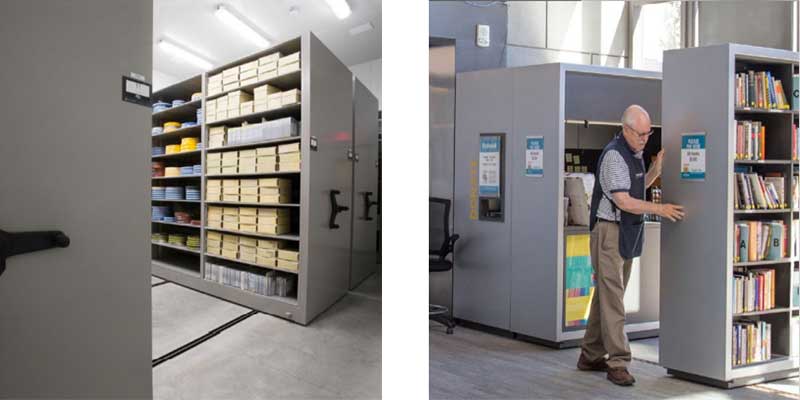 The benefits
• Store virtually anything in fewer square feet (meters) of floor space
• Help reduce your building lease or construction costs
• Make room for additional people and equipment
• Delay your need for facilities expansion
• Enable you to fit storage into almost any available space
• Improve access by storing more materials at point-of-use
• Enhance workflow
• Increase your organizational efficiency and productivity
• Assure user safety
• Provide maximum protection and security for stored materials
• Combine state-of-the-art engineering and advanced technology
• Meet all applicable ADA accessibility requirements
• Adapt readily as your storage needs change
Manual Mobile Shelving Applications
Applications range from office applications such as medical records to heavy and light industrial type parts storage. Other applications include court records, insurance records, legal records, auto parts, bench inventory, preparation bags, police evidence and pharmacy applications.