Air-powered Dock Leveler:
Air-Powered Dock Levelers offer benefits similar to hydraulic levellers and are designed to prevent potential stump-out problems. There are no legs or rollers required so you can sense a free-fall situation. You'll also find easy access to the leveller pit for quicker maintenance.
Vacant dock drop-off protection – Exclusive Safe-T-Lip barrier helps keep forklifts from running off the open dock and can stop 10,000 lb (4535 kg) forklifts travelling at 4 mph (6.4 kg/hr).
Smooth transition design includes a constant-radius rear hinge, two-point crown control on the front lip hinge and an optimized lip chamfer to reduce jolts to your lift truck operators, product and equipment.
Exclusive Safe-T-StrutTM maintenance support system protects personnel during clean out an inspection and provides lockout/tag out capability. The unique through-the-lip design keeps the strut in place when the leveller is raised to the highest position or is impacted by lift truck.
Advanced, low-pressure lifting system – Cylindrical air tower is wear resistant for longest life.
Seal beneath and around the dock leveller – PitMasterTM Under-leveler Seal is an available option that helps prevent energy loss, improve dock cleanliness and increase employee comfort.
Low maintenance – Lifting system requires no scheduled maintenance. Lip mechanism requires no adjustment. Access to leveller pit is easy for quick clean-out and inspection.
Reliable components – Blower motor is mounted inside the air tower for protection from the environment and wash-down applications. Simple design, few moving parts.
12-month money-back satisfaction guarantee standard with all Rite-Hite products.Up to 20-year money back warranty based on the Dock Leveler Investment Guide.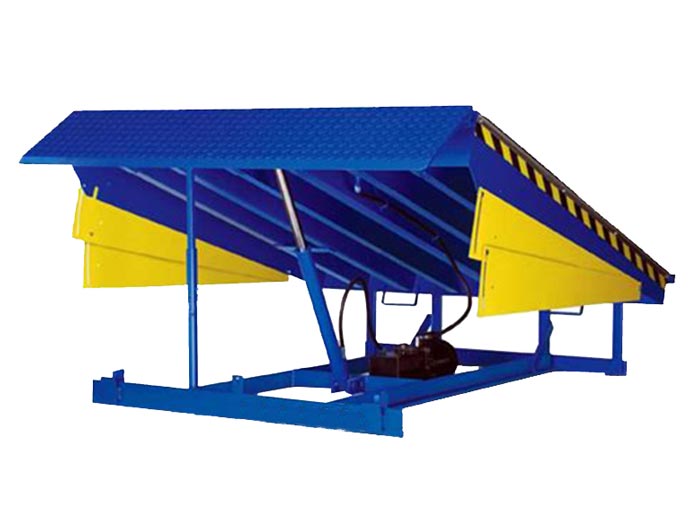 Hydraulic Dock Levelers
:
Hydraulic dock levellers are designed to handle the fast pace of busy loading docks. Advanced hydraulic technology and standard features like regenerative hydraulics, premier lug-style lip hinges, Lambda beam structure and unique open-frame designs keep productivity high and maintenance costs low.
Hydraulic Dock Levelers Features:
Operated via a remote-mounted single push-button control for sequenced deck and lip operation
Operating range is up to 12" (305mm) above and 12" (305mm) below the dock leveller
Comes complete with a 1HP, Totally Enclosed Non-Ventilated (TENV) power pack system
A hydraulic velocity fuse that limits the loaded ramp's free fall to within 3" (76mm)
Yieldable lip safely collapses if struck while in the extended position
Full operating range toe guard protection (painted safety yellow as specified by ANSI Z535.1)
Stationary side toe guards with high-visibility OSHA safety striping
The integral maintenance strut supports the deck and lip for safe maintenance and inspection procedures
Model
Mobile capacity
Adjusting range
Table size
Total dimension
DCQG-5
5t
+300-250mm
2000×2000mm
2000×2000×600mm
DCQG-6
6t
DCQG-8
8t
DCQG-10
10t
DCQG-12
12t
DCQG-15
15t
DCQG-5
5t
+400-300mm
2500×2000mm
2500×2000×600mm
DCQG-6
6t
DCQG-8
8t
DCQG-10
10t
DCQG-12
12t
DCQG-15
15t