Structural storage pallet racks are made using columns and beams made of hot rolled structural steel channels. Heavy-duty lower horizontal supports and welded leg protectors are standard on structural pallet racking systems. Structural pallet racking systems provide 100% access to all stored items and these 100% selective pallet racks are covered with a durable powder coat and baked enamel finish that provides durability even under the most demanding conditions.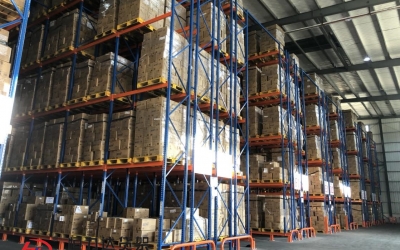 Structure of pallet racking.
The span of unit shelves is generally within 4 meters, the depth is generally within 1.5 meters, the height of shelves in low and high warehouses is generally within 12 meters, and the height of pallet racking in super high warehouses is generally within 30 meters (these warehouses are basically automated warehouses, and the total shelf height is made up of a number of sections of columns within 12 meters).
Advantages and disadvantages of pallet racking.
Advantages.
● high utilization, flexible and convenient access, is the most commonly used, the most economical and safest shelves, selective up to 100%, suitable for all types of warehouses.
●

it can form a variety of storage methods, high space utilization, high load-bearing capacity, good stability.
●

It can design a series of shelves with different specifications according to the actual use of users, and is the most commonly used shelves in various industries.
Disadvantages.
●

Low storage density, need a lot of aisles.
●

Usually use 3-5 layers, the height of the shelf is limited, generally less than 10 meters.
Features of pallet racking.
Large shelf span and high load-bearing capacity.
The span (length) of pallet racking is mainly determined by the size of the pallets. Usually, two conventional pallets can be placed on one shelf. If the load of a single pallet is very large (over 3 tons), only one pallet can be placed on each level.
Structural stability.
Due to the high load-bearing requirements of pallet racking, the stability of the racking is very important. Ground expansion screws must be installed in the bottom foot of the pallet racking to ensure the stability of the racking.
No need for laminate.
Generally speaking, pallet racking does not need the laminate, only the crossbeam can be spanned on the crossbeam, and two crossbeams are usually installed for each pallet, which can save the maximum cost.
Quantity can be customized.
The number of layers of pallet racking can be determined according to the height of the warehouse and the height of each pallet, and the bottom layer can be placed directly on the ground without crossbeams.
Flexible access
With high utilization, flexible access and computerized management or control, pallet racking can basically meet the requirements of modern logistics systems.
Application areas of pallet racking
Pallet racking is widely used in manufacturing, third party logistics and distribution centers, not only for a wide range of small quantities, but also for few kinds of large quantities.