Mezzanine Floor Definition
A mezzanine floor is a mid-level built between the floors and ceilings of two main floors or buildings. It extends over a specific area, rather than extending across the entire floor space.
The mezzanine should allow sufficient clear height for pedestrian traffic above and below the deck. In industrial environments, mezzanine systems are typically used to store inventory or other materials. Yet, mezzanine floor systems have been used in a wide variety of environments, including commercial office spaces, warehouses, manufacturing facilities, auto dealerships, and even breweries.
Mezzanine floors can be designed to many different specifications, including different load ratings, layouts, decks, railing types, etc.
What is Mezzanine Flooring made of?
Mezzanine floors are typically manufactured from a combination of steel, concrete, wood, stainless steel or even fiberglass. The construction of a mezzanine floor can be determined by the type of mezzanine and its purpose. Steel and concrete are the most common types of mezzanine construction. Some applications may require corrosion resistant materials such as stainless steel.
The majority of industrial mezzanines consist of modular, prefabricated steel systems designed to be quickly and easily installed at the factory. Steel mezzanines have the capability to be designed to provide support for heavy loads.
Mezzanine floors are commonly made of steel, wood, composite materials or concrete. Steel grating is used to provide slip resistance and drainage for the food manufacturing and waste management industries. Composite resin decking systems are low-weight and long-lasting for storage mezzanines. Concrete decking is considered the most sustainable for heavier industrial applications.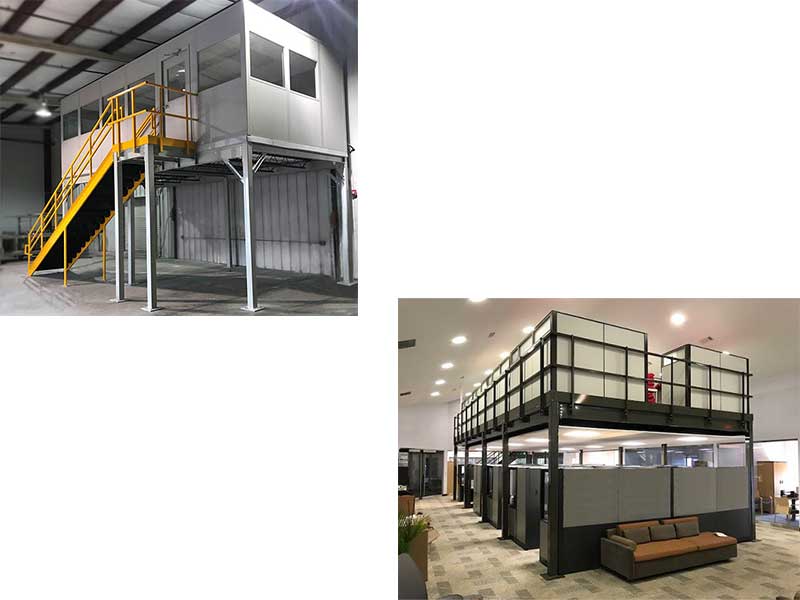 OSHA Requirements for Mezzanine Fall Protection
Mezzanines are very versatile areas, but they also present a danger of falling easily.
It is for this reason that OSHA regulations are timely to make provisions for mezzanine safety. Let's take a look at some of them.
● Facility managers are responsible for inspecting and maintaining fall protection systems, including mezzanine guardrails, gates, safety nets, self-retracting lifelines, etc.
● The top edge of the guardrail safety system must be 42 (±) 3 inches above walk level. Guardrails must withstand a force of up to 200 pounds in any outward or downward direction to comply with OSHA standards.
● Fall protection must be installed. Toe boards with a minimum vertical height of 3.5 inches are typically used for this purpose.
● All openings/holes in the work/walking area must be surrounded by guardrails or covered with a solid fastening solution capable of withstanding forces twice as great as those predicted.
● OSHA-regulated training programs must be provided for your employees.
● Facility managers need to ensure adequate lighting, frequent cleaning, regular inspections, and non-slip floors.
Benefits of Mezzanine Flooring
In a warehouse or manufacturing facility, a mezzanine flooring system offers several advantages.
First, a mezzanine floor takes advantage of unused space above a facility's floor and uses it in any way the facility sees fit. Whenever a facility needs a quick and economical solution to its space needs, a mezzanine floor is the best solution because it effectively doubles the available space it covers.
Other than the ability to create additional space, mezzanine flooring can be installed into a facility quickly and with minimal disruption to the site. In contrast to stick-built, prefabricated mezzanine floors can be manufactured off-site, allowing the structure to be quickly erected on site.
Contrary to stick-built, prefabricated steel mezzanine floors ensure that there is no wasted material on the project site, making clean-up as easy as possible. All of this means that the facility will have minimal downtime and increase its usable area quickly and efficiently.
The many uses of mezzanine flooring
Mezzanine is a cost effective space creator and we have supplied this product to a variety of different industries and sectors: logistics, transportation, retail, manufacturing, medical, automotive, leisure, healthcare, film industry, grocery stores, etc.
If you are interested in learning more about our mezzanine systems, please email us at spieth12@spiethstorage.com.
We are always happy to help answer your questions and find the right solution for your space.
Or, you can request a quote and we will provide you with a number for your potential project within 24-48 hours, including drawings, specifications and your own 3D fly-through of the structure.
Learn More:
How High Can Pallet Racking Go?

What is the advantages of wire mesh decking?

Why Plastic Upright Protectors?
How can you get the most out of your warehouse?

Mobile Compactor Storage -- Provides Outstanding Space Efficiency