Introduction of steel pallets
Pallet steels are horizontal platform devices for loading, stacking, handling and transporting goods and products as unit loads. Generally, it is made of wood, metal and fibreboard. It is convenient to load and unload unit materials and small quantities of materials. The main types of pallets are wood, plastic, metal and other materials, wood is now the most widely used, because its price is cheap, strong; plastic pallets are more expensive, load is smaller, but with the progress of plastic pallet manufacturing technology, some high-load plastic pallets have emerged, is slowly replacing wooden pallets. 。 Metal pallets are strong and durable, but they are easy to corrode and have a high price. Steel pallet is an ideal replacement product for traditional wooden pallet and plastic pallet. It is suitable for forklift truck operation and easy to access goods.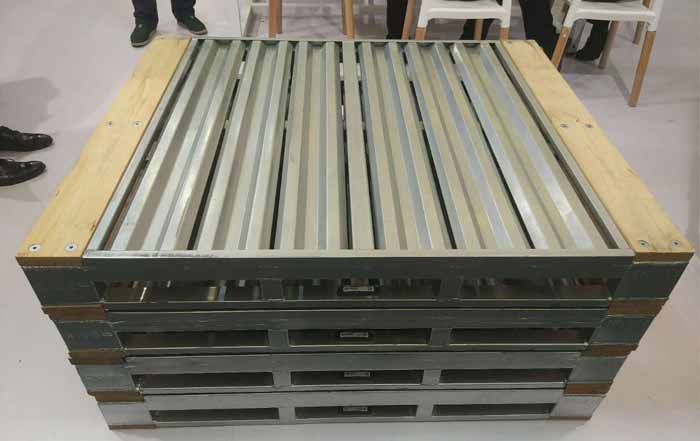 Advantages of steel pallet
1.Strong bearing capacity.
2.Environmental protection, recyclable.
3.High temperature disinfection or antiseptic treatment
4.High Strength, Wear Resistance and Temperature Resistance
5.The surface is treated with anti-skid and the periphery is treated with wrapping.
6.Waterproof, moisture-proof and rust-proof; environmental protection advantages compared with wooden pallets
How to Maintain Steel Pallet
1.Eliminate rust.
2.Moisture-proof.
3.Avoid bumping.
4.Isolate moisture.
5.Keep away from the sun.
6.Avoid damage to forklift trucks
7.Keep away from acid and alkali.
Application Area
Mainly used for multi-purpose ground storage, shelf storage and cargo intermodal transport, turnover and other ultra-light metal pallet series. Placement of assembly, stacking, handling and transportation is a horizontal platform device for unit load. At present, it is one of the important auxiliary equipment for warehousing and transportation in industry.