As opposed to a typical dry goods warehouse, food and beverage warehouses must consider a wide range of factors, whether handling refrigerated, frozen or chilled products. Each item must be cared for and maintained according to proper sanitation standards, health compliance and storage efficiency.
Food and beverage warehouses.
Given all of these components, maximizing efficiency and safety within your warehouse space can seem challenging. Different food industries may also have different goals. For example, quick turnaround, long-term food storage, etc.-each has its own unique set of issues.
Unique challenges.
Most of them involve the supply chain, which provides ample space and pallet racking systems to maximize space and efficiency. As a result, racking provides much-needed organization to promote accessibility and space savings within the warehouse. We have identified some of the challenges you may face when storing food and beverages.
● Cost: The need to reduce costs and maximize productivity
● Coping with SKU proliferation
● Maximizing storage (pallet location)
● FIFO requirements
● Food hygiene
●Environment and refrigerated area
Since most operations have two types of storage and production areas, should shelf design be treated differently? Typically, the same principles apply for ambient and refrigerated. However, there may be different important racking considerations, such as galvanizing racks for certain types of coolers or washdown areas. Another example is that refrigerated racks should be heavily reinforced and designed to prevent damage to the racks and products as operators tend to operate at higher speeds.
Types of racks for the food and beverage industry
Our experience has shown that high density rack systems are the popular rack style.

pushback

, Pallet Flow and

Drive-in

are used in both ambient and refrigerated environments. Selective racking will also always have a place to utilize all available space in the plant or for small batch applications per SKU.
Racking System Design Criteria
The following is a list of criteria that we consider when designing food and beverage warehouses.
● Whether FIFO is required
●# SKU
● Total pallet locations required
● Pallets per SKU
● Hygiene requirements
●Temperature
●Forklift type
● Allowable storage space
● Needs protection/reinforcement
With the right planning and selection of the right pallet racking system, you can increase productivity, safety, product damage/loss and reduce the number of errors associated with warehouse performance. We have worked with market leading companies in the food industry. We have a wide variety of customers in the food and beverage industry. So, please contact us for more information on racking for the food industry.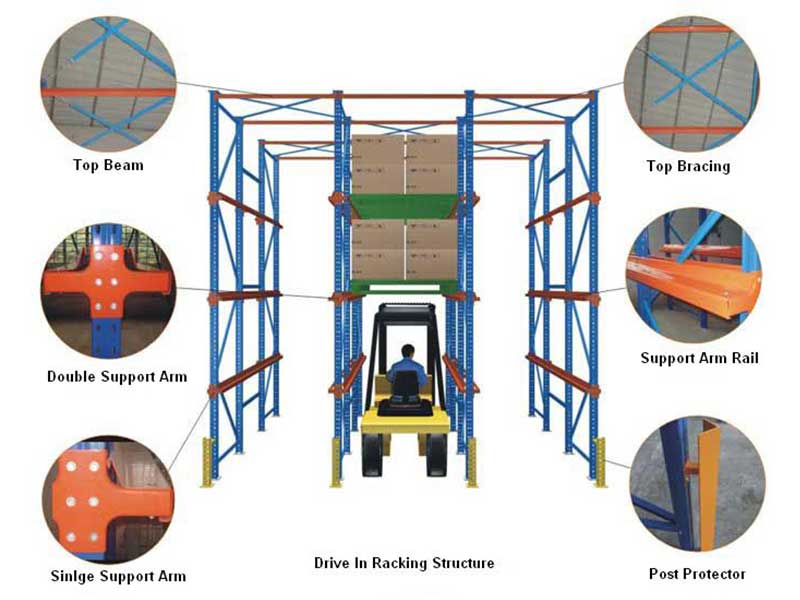 Further Reading:
Double deep raking system: detailed introduction of advantages and disadvantages

How to choose the right pallet racking system for your food and beverage warehouse?
What will be difference after using the pallet rack?

How to manage the materials in the warehouse?

Five ways to reduce warehouse storage costs