A great way to increase storage and/or work space in a warehouse environment is with a steel mezzanine floor system, which allows you to utilize unused vertical space already in your facility. Once the mezzanine is built, the space beneath it is also accessible and can be used for storage or other purposes. A few different types of mezzanines are available, but steel structures are the ones most typically used in warehouses.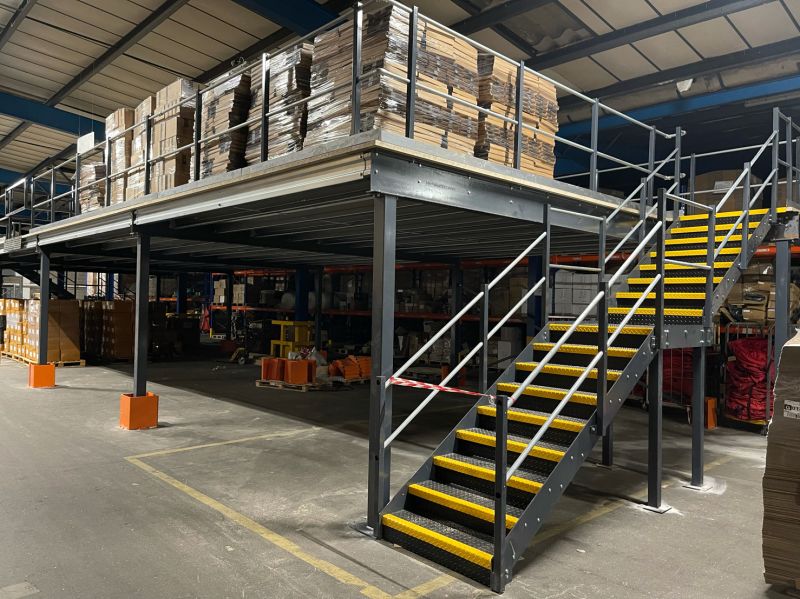 Advantages of Industrial Mezzanine Floor
●It can be flexibly designed into two or more stories according to the actual site needs. It is suitable for storing more varieties, less batches of goods and making full use of space.
●Storage is no longer an issue as you can make the most of the available storage space
●Prefabricated stairs and accessories for easy installation
●Enables easy support of conveyor systems, equipment parts or products
●Increases storage space
●Facilitates material handling
●Easily relocated later
Steel mezzanine floor system specifications
| | |
| --- | --- |
| Material | Cold-rolled steel |
| Height | 2000-12000mm or as request |
| Depth | 2000-100000 mm or as request |
| Width | 2000-100000 mm or as request |
| Beam Length | Up to 4000 mm |
| Loading weight | 500 kg-2000 kg per layer |
| Material thickness | 1.5-6.0 mm |
| Colors | Blue, safety orange and computer grey or customized |
| Floors | 1-5 floors, customized |
| Use | Storage a wide variety of goods |
| Packing | as request |