Heavy duty stacking racks are generally equipped with forklift trucks, which can be used either as moving equipment or as static storage equipment. Can quantitatively store, separate and distribute goods in a planned way. Storage and transportation are convenient and fast. The rack stacking during transportation can effectively protect the goods from damage, and the safety of the goods is guaranteed. Let's understand the relevant knowledge of the classification of the next heavy duty stacking storage racks.
Metal stacking racks are divided into fixed steel stacking racks and assembled

steel stacking tire rack

. The fixed stacking rack for storage is welded by section steel, which is strong and durable; the assembled stacking rack is composed of a base and four uprights. The base is generally welded by section steel, which has a firm structure and is easy to use. The stacking rack can be stacked and stored when not in use, saving warehouse space.
Specifications
1.1000*1000*1100 mm
2.1000*1200*1100 mm
3.1100*1100*1200 mm
4.1200*800*1200 mm
5.1200*1200*1250 mm
The size, style, load-bearing and colo
r of the stacking racks produced by our company can be designed and produced according to customer requirements. Special top treatment is adopted to ensure stability and safety when the goods are stacked.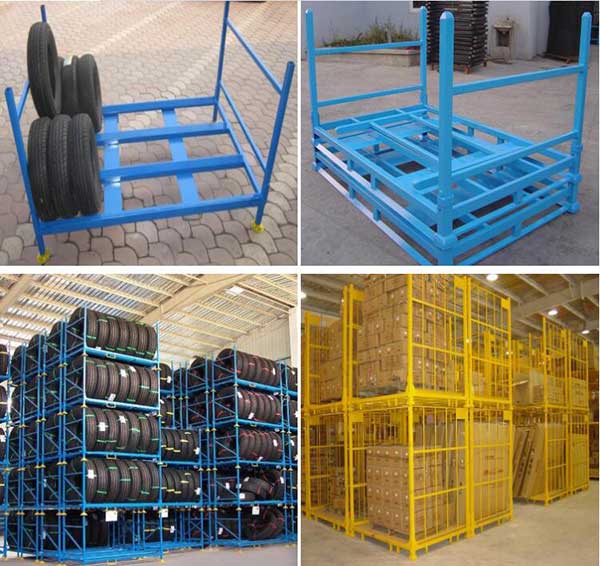 We all know that Stacking rack has an important role in logistics management, but it must be used in a suitable location to highlight its importance. So what are the application places for smart frame?
1. The reserve warehouse is mainly used to store the commodities that are produced all year round and consumed seasonally, or the commodities that are produced seasonally and consumed all year round. This type of warehouse can be located at the beginning of commodity transportation or at the end of the commodity transportation process.
2. The requirement for the maintenance of commodities in the Stacking rack storage warehouse is relatively high. The wholesale warehouse mainly stores the goods purchased by the commercial wholesale department, and then supplies them to the retail goods or other commercial wholesale departments one after another.
3. It is used in the continuation of commodities. According to the requirements of the requesting unit, the clever frame generally needs to handle the business of commodities reconfiguration, demolition, powder, and modification. The business characteristics of this type of warehouse are small quantity, large batches, high throughput frequency, and most of them are located in the place of consumption.
It is recommended that you make rational choices based on the products you need to stack and the size of the environment when you choose to use the clever frame. At the same time, before choosing to use it, you can learn more about all kinds of knowledge about the product to avoid selection errors and waste.