Introduce of Slotted Angle Iron
Hot galvanized
slotted angle steel iron rack shelving
is mainly composed of pillars and steel laminates. It is suitable for manual access to lighter goods. Slotted angle steel shelving it can be used with plastic turnover box to store a variety of small products. It is widely used in the electronic industry and small parts warehouse.Angle steel rack it can also realize anti-static function by changing spray powder or other ways. It has the characteristics of low cost, safety and reliability, simple assembly, installation and disassembly, can be used alone, and can be spliced freely into various arrangements. The top and bottom boards of the shelves are connected with the posts by double-angle codes and screws to make the shelves stable. The steel laminates are bended in four sides according to the required size and welded with concave reinforcement bars. Spot welding is adopted for welding. This structure has the characteristics of saving material, high load-bearing capacity and smooth and neat surface.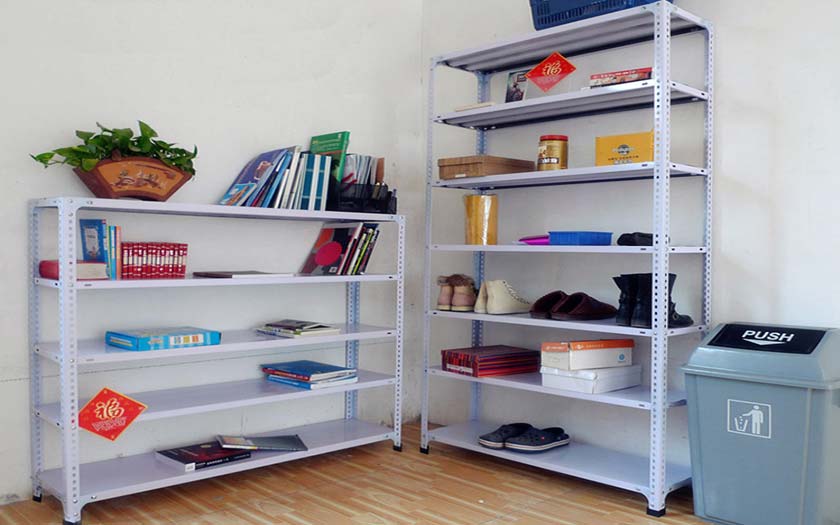 Specifications
Product Name
Specifications(mm)
Thickness(mm)
Length(mm)
Capacity(lbs)
Picture
Angle Post(Equilateral)
35*35 36*36
38*38 40*40
4.5~2.0
H24"-144"
1000~3000



Angle Post(Inequilateral)



60*40
57*37
1.5~2.0
H60"~192"
1500~3500


Shelf(without support)
900*300
900*400
900*450
900*600
0.7~1.0






Shelf(with support)

900*300


900*400
900*450


900*600



0.7~1.0






Corner plate

70*70
0.7






More Details

Application Area
It is widely used in enterprise warehouses, supermarkets and institutions. At the same time, this product can reach the level of the same products in developed countries.
It can be used to lay anti-static facilities on the light shelf floor and make anti-static shelves. Now it is widely used in electronic enterprises.
In addition, the light shelves in the same direction can be bolted together to form a whole shelf to store more goods.