The height of the loading and unloading platform is fixed. But the height of the compartment of the transport carriage to and fro varies. A certain height difference or gap is always formed between the transport vehicle and the loading/unloading platform.
This causes the forklift to be unable to enter and exit the transport vehicle to load and unload goods directly. The use of docking bridges provides a reliable connection. So that the forklift can safely and quickly enter and exit the transport vehicle for loading and unloading operations.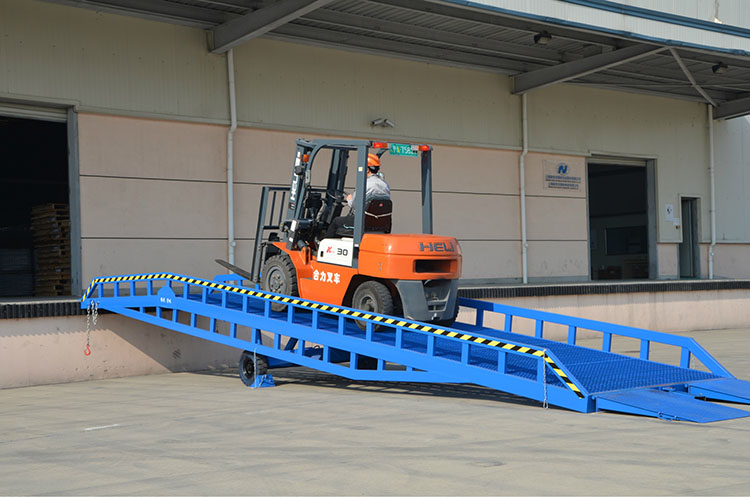 Mobile Dock Ramp Specifications
Model

Mobile capacity

Adjusting Range

Table Size

Total Demension

DCQG-5

5t

+300-250mm

2000x2000mm

2000x2000x600mm

DCQG-6

6t

DCQG-8

8t

DCQG-10

10t

DCQG-12

12t

DCQG-15

15t
Product Features
●
Fully hydraulic drive, easy operation and reliable operation.
●
The lip plate and the platform are connected by the whole long shaft, with high strength and good reliability.
●
Imported seals are used to ensure the hydraulic system has excellent sealing performance.
●
Imported modular hydraulic station, good sealing and long service life.
●
High strength "U" shaped beam design can guarantee its high load long time operation without deformation.
●
Anti-slip pattern steel plate is adopted to make the platform have good anti-slip performance.
●
Both sides are equipped with anti-rolling foot skirts to prevent accidental injury caused by toes sticking into the platform.
●
There is a support bar to ensure the safety of maintenance personnel when they enter the interior of the boarding bridge for maintenance.