Relationship between cross-beam racking system and double deep pallet racking system
Beam racking is a racking system used in a variety of industries, while double-depth pallet racking system is derived from it. Therefore, there are often comparisons between these two types of racking, so what is the difference between beam racking and double-depth pallet racking? Don't worry, you'll understand after reading this article!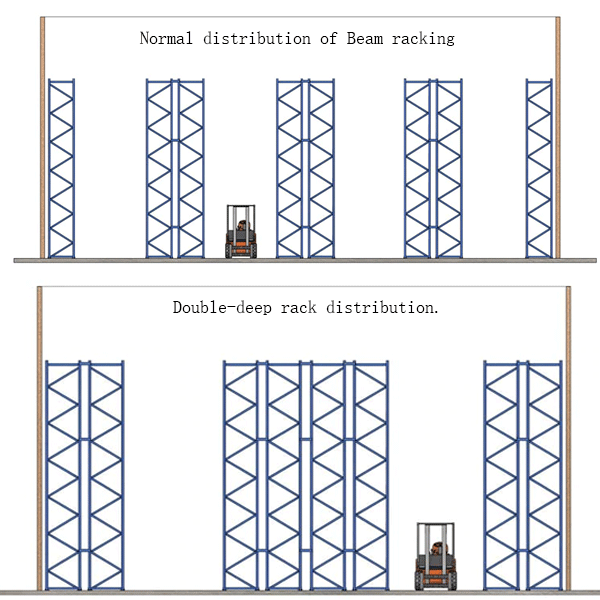 | | | |
| --- | --- | --- |
| | Beam racking | double depth pallet racking |
| Rack structure | It is assembled by column, diagonal brace, cross brace, cross beam and bolt. | It is a kind of dense shelving, and this shelving system adopts double-row side-by-side design structure. |
| Forklift Type | Conventional forklift | scissor lift trucks |
| Access method | FIFO | First in, last out |
| Picking rate | The cross-beam racking can be accessed at any one of the bays, which is convenient and quick to operate, effectively improving work efficiency. | Because of the deeper storage bay, the double-depth pallet racking picking rate is not as high as that of the beam racking, which is only fifty percent. |
| Storage capacity | Normal storage capacity | Up to 30% more storage capacity under the same site conditions |
Well, the above is the difference between beam shelving and double depth pallet racking, I believe we all have a certain understanding. When you buy storage shelves, you must choose according to the characteristics of the stored products and the use of needs.
If you want to know more information about storage shelves, please click the following link.

How to distinguish light shelving from heavy shelving?

What are the main advantages of steel platform racking?

Types and roles of warehouse shelves

Can heavy-duty racks control the speed of goods sliding?
What do I need to pay attention to when adding layers of heavy pallet racking in the warehouse?
What are the advantages of mezzanine floor pallet racking compared with other shelving?