Long span shelving

Long span shelving, also known as wide span shelving is one of the most efficient storage systems and a very useful asset which most businesses prefer to have for their storage space. This is a distinctive shelving system that provides an optimal solution for high density storage of small parts with light or medium loads. Long span shelving is perfect for any type or size of merchandise and never takes up most of the floor space. As a result, long span shelving is known as the most optimal choice for retail and industrial houses with space constraints. Installing these long span shelves is simple and does not require expert support.
A unique storage system that is designed for small to medium sized items is the Long Span Shelf. This is a rugged, hard-wearing long-span shelving structure that can be used in a wide range of shelf lengths, widths and heights. In addition, it is designed with four side steel beams to support any material. Our sturdy long-span shelving allows materials to be accessed and retrieved from all four sides. It will definitely improve the efficiency of your warehouse or workspace by using it.
Spieth's long-span shelving system is designed to provide a cost-effective storage system with rigid connections that provide reliable support for shelf decks. It consists of materials such as mesh, steel or particle board. Long span shelving is available in different sizes, shapes, and designs that you can customize based on storage space or product type. Contemporary long-span shelving has a boltless locking system that holds the support beams in place. Its installation is simple, with no nuts and bolts required for installation. Its lighter shelving system is ideal for small to moderate sized items. Compared to the old bolt system, the new long-span shelving is durable and safe for employees. It is also a useful solution that is specifically designed to minimize any wasted storage space.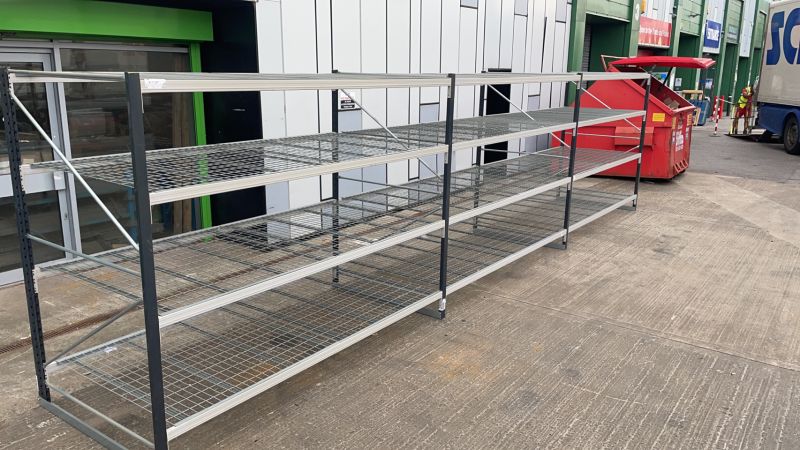 The benefits that long span shelving can bring

●It is possible to support loads of up to 1000kg per 2.7m shelf span with long span shelving.This inherent strength makes wide span racking the ideal bulk storage racking solution.
●Saving storage space. What it will allow is to create multiple layers of shelves. Therefore, it can save a lot of storage space. In addition, the vertical storage system will allow you to use less floor space and store many products in a limited space.
●Wide span racks provide uninterrupted access to large items.
●Long span shelving offers 50mm height adjustment and a choice of chipboard shelves or sheet steel panels, providing complete flexibility.
●Long-span racks can also be used to build raised-aisle double shelving for increased storage capacity.

Long span shelving applications
●Long span racks may be the right storage solution for products that cannot be stored in pallet racks. Objects stored in these shelving systems are handled manually rather than by a conveyor or forklift.
●Irregularly shaped or fragile products or tires, batteries, office supplies, etc., are examples of goods that you can effectively store in a long-span shelving structure.
●The distinguishing feature of long span shelving is that workers can store and retrieve products manually. The flexibility of these storage units makes them ideal for all warehouse settings that handle small and lightweight products and require manual handling.
Spieth always has a wide range of new and used shelves/rackings in stock to meet every need.
We always store such a large amount of inventory to ensure that your order is delivered quickly to your site or warehouse. So whether you are looking for heavy duty shelving, long span shelving, chrome shelving or cantilever shelving systems, Spieth Shelving is the supplier of choice.
Our wide range of shelving solutions is unbeatable, and so is our commitment to value for money. So whatever your storage needs, whether your business is looking to purchase new shelving, add to its existing shelving system or can't find the exact product you're looking for on our website, please email our team of experts ( [email protected]) and we'll be happy to help and advise.
Further Reading:
What to do with long, heavy loads: pipes and lumber

Optimal industrial heavy duty racking for different use cases

Wheeled carts: they make cargo handling easier

Why is loading and unloading an important part of logistics efficiency?

What scenarios can the space-saving mezzanine floor pallet racking be used in?