Warehouse rackings are storage equipment with six basic functions of logistics: packaging, transportation, loading and unloading, sorting, and information management logistics. With the continuous development of the industrial warehouse shelving industry nowadays, more and more industries and enterprises are using warehouse shelving.
Whether it is a business, factory or supermarket, all have their warehouses. So how to make reasonable use of their warehouse space, then you first need to choose the warehouse racking according to their conditions.
Factors to consider when deciding on industrial warehouse racking
•What is the current storage situation of the enterprise, for example, what are the main goods to be stored and what are their characteristics?
•What results and features are you looking to achieve in purchasing new industrial warehouse shelving?
• What items will be stored here?
• Am I storing on pallets?
• What are my product flow requirements?
• What is my available storage area including elevation?
• Will I be utilizing a vehicle such as a forklift?
• What type of environment am I storing in (humid, freezer, etc.)?
Common industrial warehouse racking
There are many industrial warehouse racking, here we only recommend four of the most common industrial warehouse rackings. Your warehouse racking format can encompass a small phase of your space, or be used to furnish your complete warehouse. With a large variety of alternatives to pick out from, customizing your industrial warehouse racking to maximize density and effectivity will be a breeze. It can additionally be blended with more than a few fabric coping with storage options to go well with your needs
Selective pallet rack
Selective Pallet Racking is widely used in manufacturing, third-party logistics and distribution centres. They are not only suitable for multi-variety and small-batch goods, but also small-variety and large-batch goods. Pallet shelves are most widely used in high-level warehouses and super-high warehouses.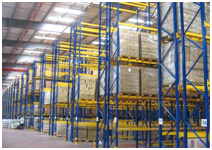 Drive-in Pallet Racking
Drive-in pallet racking is also called drive-through racking, is used where high-density storage is required. It is frequently used in facilities with a low number of product lines. It works on the FILO(first in last out)rule.
Drive-in racking is designed for high storage density without a special pathway. The forklift would be driven in the aisles when loading or packing pallets. Drive-in racking has good storage density, suitable for material warehouse or cycle warehouse with high efficiency or timely operation.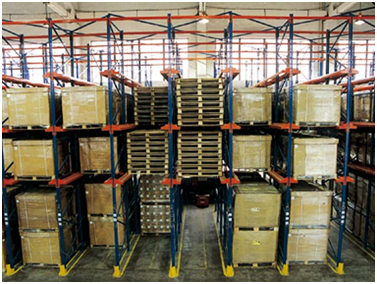 Push Back Pallet Racking
Push back pallet racking is also called push in pack racking. It adopts the principle of a combination of track and pallet trolley. The track shows a certain gradient (about 3 degrees). By using the weight of the goods, pallet goods are stipulated to be stored at one end. Goods come first and go out later. It is suitable for the storage of large quantities of goods with few varieties and has favourable space. It has a high utilization rate and is more flexible and convenient to access.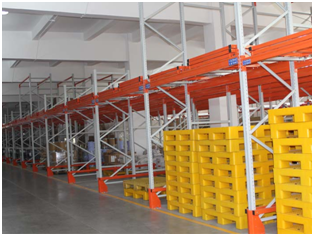 Mezzanine Floor Pallet Racking
Mezzanine floor pallet racking systems with industrial work platforms and mezzanine structures are excellent solutions to fully utilize existing overhead space and improve operational efficiencies. They can be provided with a variety of decking sand floor types, including wood, steel and gratings. They also come with a variety of integrated components and accessories, including stairs, handrails, gates, lifts and so on.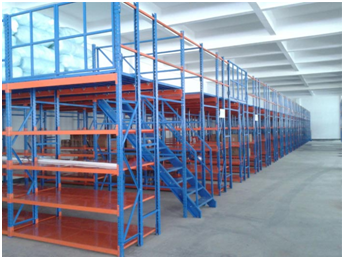 Spieth's industrial warehouse rackings and services
Spieth offers standard and customized racking options worldwide.Our Project Management and Engineering Team are trusted professionals who will work with you every step of the way; from designing the optimal storage solution for your needs, managing subcontractors, shipping coordination, installation and final permitting. After your system is complete, we can recommend ideal Material Handling Products that will help your operation run more efficiently.
For advice on which is the best industrial warehouse racking option is right for your storage needs, simply contact us at spieth12@spiethstorage.com or give us a call at +86 18006010205
Related recommendations about industrial warehouse racking
What factors should be considered in the selection of shelf height
Installation points of storage rack