Boltless rivet shelving
Boltless shelving system rack
is a kind of commonly used storage rack. It is named because of the way of hanging rivet between
beam and column.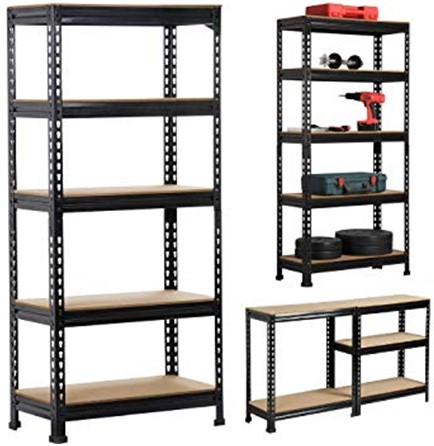 Single boltless shelving units:
Single rivet cross beam rivet shelf is a kind of high density shelf, a single rivet cross beam rivet shelf can be placed 5 layers of shelf, and can be adjusted at will without the back of the fixed shelf, has a greater space and does not hinder the stability of the shelf. When two shelves are put together, a T-shaped column can be Shared. This shelf is easy to disassemble and install without using any tools. Heavy P bar and heavy single rivet beam can be used to store heavier items.
Double rivet rack
Double rivet cross beam rivet shelf is a kind of shelf that can store large capacity goods, a double rivet cross beam shelf can be placed 2~3 shelves, do not need any tools can be arbitrarily disassembled and installed, convenient for users.
Item

Spec(mm)

Thickness(mm)

Capacity(Kg)

Angle post

32*32

1.0-2.0

500-1000

35*35

1.0-2.0

500-1000

38*38

1.0-2.0

500-1000

47*47

1.0-2.0

500-2000

Double rivet beam

50*15

0.8-2.0

100-250

55*15

0.8-2.0

100-250

67*21

0.8-2.0

100-250

Single rivet beam

25*25

1.0-2.0

50-100



Features of the boltless garage shelving
1. The shelf buckle structure, convenient to disassemble; Plastic feet are provided at contact with the ground.
2. Shelf column: made of double punching holes of equilateral Angle steel, the holes are arranged in a straight line with a distance of 50mm, and the holes are used to hang the lamella;
3. Shelf steel plate: cold rolled steel plate according to the required size of four bending forming. Laminate can be steel laminate or wood laminate.
4. Rack composed of columns and steel laminate connected and fixed by fastening pin and triangular fixed plate.
5. The finished shelf surface produced is smooth and beautiful; The laminate can be adjusted from top to bottom, which is convenient for disassembly and assembly.