Spieth overhead ceiling storage rack is an ideal solution to maximize the garage storage space. This durable and heavy duty overhead ceiling storage system has a large capacity of up to 270kgs. This storage rack is made of powder coated steel material. The height can be adjusted from 22" to 40" , providing a convenient and safe space to organize different kinds of spare parts and garage goods. This storage system is simply to set up to the ceiling, all the accessories needed are included in the package. Spieth garage ceiling storage racks come with five different standard sizes to help you to get the best fit for your garage: 4'x8'; 3'x8'; 4'x6'; 4'x4'; 3'x6'.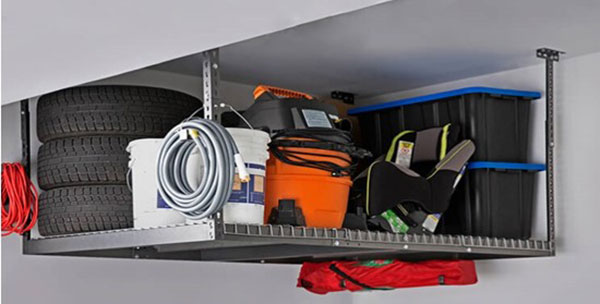 Features of Spieth overhead ceiling storage rack:
Easy for assembly; More stable and sturdy compared to other storage racks
Easy installation instauction with step-by-step diagrams.
High quality Cold-rolled 14 gauge steel construction offers safety loading capability up to 270kgs. High quality screws are also included.
22"-40". ceiling dropdown provides different storage space according to your needs.
All the rack components arrived in one box compared to other racks come with different boxes.
Spieth offers you more size options to perfectly fit for your space: 4'x8, 3'x8', 4'x6', 4'x4', 3'x6'
The overhead ceiling racks can be installed into wood joists and concrete ceilings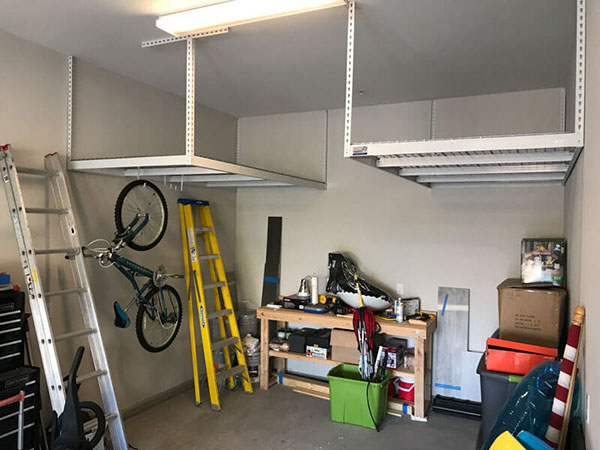 Dimensions: 96 in. L x 48 in. W x 22-40 in. H; Universal compatibility with different ceiling joists spacing
Height adjustment: From 22" to 40"
Weight capacity (each): Up to 270 kilograms
Material: Powder-coated steel material, galvanized wire mesh deckings.