As your business grows, it's easy to infer that your warehouse storage needs are also growing incrementally. At this time you are faced with the challenge of adding storage capacity to a warehouse with a limited footprint, rather than spending a fortune on new storage or relocation.
Here Spieth as a China racking and storage expert recommends vertical storage system. Companies create larger usable areas on the warehouse floor by using vertical space. This can improve workflow, open up forklift routes, increase product visibility and help make the facility more efficient.
Three Benefits of Vertical Storage
Increase warehouse storage space
The biggest benefit of a vertical warehouse storage system is the increased floor space. Stacking pallet racks vertically not only allocates more storage space, but also opens up floor space. This provides employees with more space to navigate the warehouse on foot or with a forklift, resulting in faster and more efficient picking, retrieval and fulfillment operations.
Improve warehouse safety
By using space more efficiently, vertical storage creates a safer environment for workers, free of clutter, overloaded shelves and tripping hazards.
Improve warehouse storage efficiency
Vertical storage systems are designed to efficiently organize and hold specific types of products. For example, drive-in racking is designed to store large quantities of high-density goods. It allows forklifts to easily access from one side for a quick retrieval process.
Choosing the right type of vertical racking can help optimize your warehouse for faster, more efficient operations. This allows for faster material handling, efficient order processing and just-in-time deliveries. All of these elements combined can improve your organization's bottom line.
Three vertical storage options
Spieth offers three high quality vertical storage options to ensure you have an efficient system in your warehouse. Some of the most efficient pallet racking we offer include.
Cantilever Racking
Cantilever racking

is a vertical storage option designed to store large, bulky items. Wood products, furniture, metal tubing and pipes can be difficult to store due to their irregular shape and weight. Cantilever racking systems store these items in a space-saving manner by using vertical space.
Selective Pallet Racking
Selective racking

is often referred to as standard racking due to its popularity and versatility. Selective pallet racking consists of double columns that hold horizontal beams for easy storage and retrieval. The open design of selective racking allows for forklift access from the front or rear of the aisle.
Selective pallet racking is versatile and customizable, making the installation, maintenance and reconfiguration of your system easy and fast. Single selective pallet racking is one of the most common configurations, making it an excellent choice for low-density storage in warehouses or high-turnover distribution centers.
Drive-In Racking
Drive-in racking

is a high density storage option. For similar or identical items, it is one of the most space efficient solutions. Drive-in racking is designed to organize inventory vertically into several deep pallets. The shelves are wide enough for a forklift to drive through, which is ideal for LIFO (Last In First Out) inventory management systems.
If you're looking for a cost-effective way to save space in your warehouse, consider upgrading to a pallet racking system designed for vertical storage. At Spieth, we offer a variety of racking systems to help you move your business up the ladder to better space utilization and inventory management.
Contact us for a free quote
Tel : +86 18006010205
E-mail : spieth12@spiethstorage.com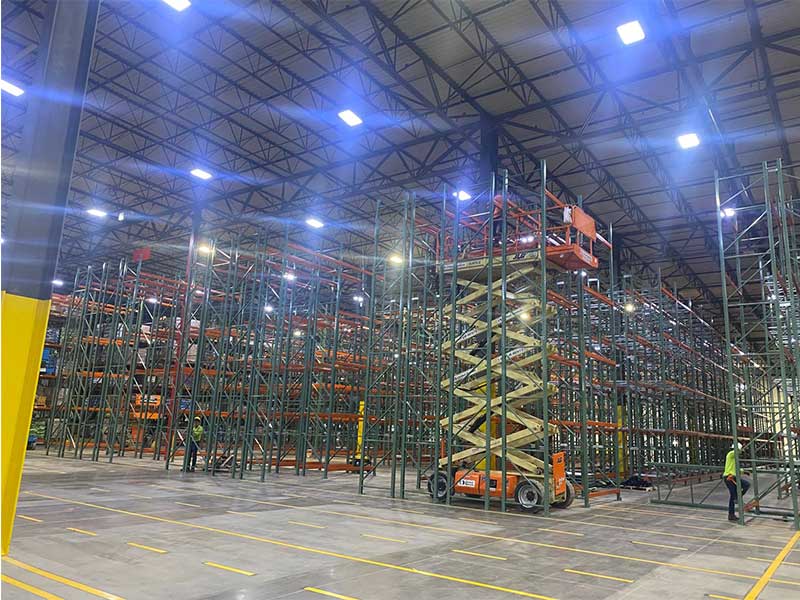 Further Reading:
Original Danish trolleys from Spieth

Why do you need to use metal shelving in your warehouse?

Six common types of industrial steel pallets

How can storage shelves be used for a more long time?

Pallet racking options in food and beverage warehousing