Definition and performance of angle steel shelves
Universal angle steel shelving is a kind of light shelving, using high-quality cold-rolled steel plate, stamping and forming, easy to disassemble, easy to adjust, flexible combination, the transformation is very strong, can be placed by the customer to increase or decrease the number of layers to achieve better storage effect.
The structure and characteristics of angle steel shelves
Angle steel shelves are mainly composed of columns and steel laminates, which are suitable for manual access to lighter goods. Angle steel shelves can be used with plastic crates to store many kinds of small products, widely used in the electronics industry and small parts warehouse. Angle steel shelves can be changed by spraying powder or laying special rubber plates to achieve anti-static function. Angle steel shelves are low cost, safe and reliable, easy to assemble and disassemble, and can be used alone or freely spliced into various arrangements. Angle steel shelves can even realize the transfer function by adding the universal wheel mechanism at the foot. The top and bottom layers of shelves are connected to the columns with double angle codes and screws to make the shelves stable. The steel laminate is made of Japanese standard spcc cold plate bent on all sides according to the required size, and the form of concave reinforcement is added below, and the welding is spot welding. This structure is characterized by material saving, good load-bearing condition and smooth surface.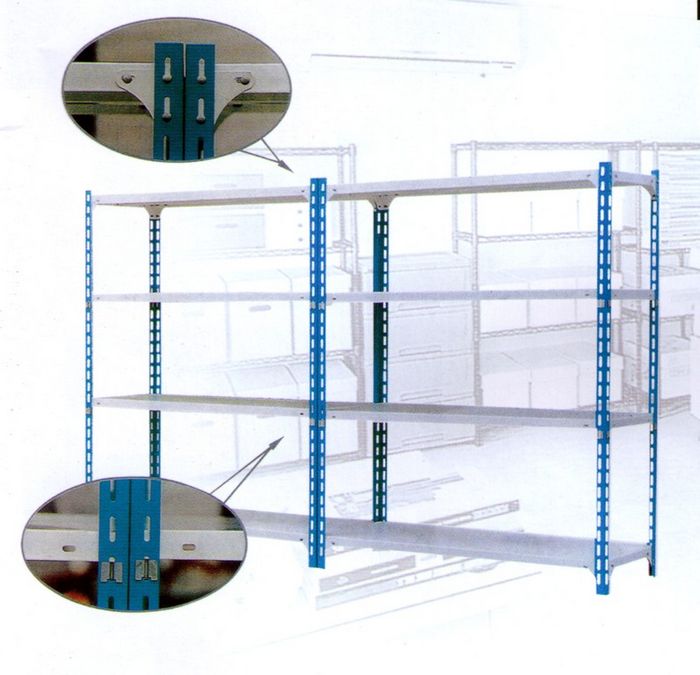 Wide range of uses of angle steel shelves
(1) Widely used in enterprise warehouses, supermarkets and institutions, while this product has reached the same level of products in developed countries.
(2) Light shelves can also be laid on the floor anti-static facilities, can be made into anti-static shelves, now widely used in electronic enterprises .
(3)Light shelves can be connected with bolts in the same direction to form a whole shelf.