Steel Slotted Angle Racks
Description:
Slotted angle shelving to create an almost endless variety of system solutions and solve even the most unusual challenge in your facility.
Slotted steel angle universal, versatile bolt patterns have been thoughtfully engineered to accommodate any need. Slotted Angle is easily cut to size while in the field, and can be adapted to uses limited
only by your imagination.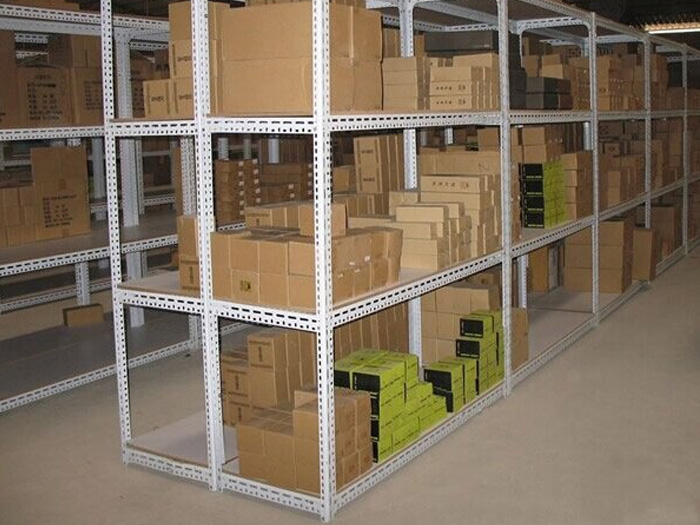 Made of high-strength, durable 12 and 14 gauge hot-rolled steel, slotted angle shelving is the ideal answer for non-standard size or special item racks, carts, worktables, and support framing constructions. Solve your special storage challenges easily, quickly and more economically with steel slotted angle racks.
Specifications
Product Name
Specifications(mm)
Thickness(mm)
Length(mm)
Capacity(lbs)
Picture
Angle Post(Equilateral)
35*35 36*36
38*38 40*40
4.5~2.0
H24"-144"
1000~3000



Angle Post(Inequilateral)



60*40
57*37
1.5~2.0
H60"~192"
1500~3500


Shelf(without support)
900*300
900*400
900*450
900*600
0.7~1.0






Shelf(with support)

900*300


900*400
900*450


900*600



0.7~1.0






Corner plate

70*70
0.7




Slotted Angle Shelving components:
Angles are the Vertical load carrying member of the system.
It comes in 3 types i.e Angle 40, MF60 & MF80
Thickness varies as 2mm.
Slots at a pitch of 19.05 mm. So the levels are adjustable to 19.05 pitch only.
Steel Panel makes Decking surface.
Standard width is 900mm.
Depth varies as 300 / 450 / 600 mm
Thickness varies as 1.0 mm
Corner Plate is the stability member of the system.
It is fixed one at each corner of the unit.
Slotted Angle Shelving Applications:
Slotted Angle Shelves are designed to be used as economical shelving, racking, workbench, cart, ladder, table or any other type of structure to your own specifications. Multi-tier shelving slotted angle shelving can be adapted to double or treble your storage space. Complete with catwalks and staircases and railings