What is galvanized angle iron shelving?
Galvanized angle steel shelving is an economical type of shelving suitable for manual access to goods. No screw connection, quick assembly, no special tools required. The height of each layer can be freely adjusted. After assembly, it can be equipped with scrap board, mesh, galvanized laminate or metal rolled laminate. Angle steel shelving is versatile, with any color available for any environment, such as offices, storage rooms, kitchens and stores.
Galvanized angles are divided into hot-dip galvanized angles and cold-dip galvanized angles. Hot-dip galvanized angles are also called hot-dip galvanized angles or hot-dip galvanized angles. Cold galvanized coatings are mainly used to ensure full contact between zinc powder and steel through electrochemical principles, producing electrode potential difference for corrosion protection.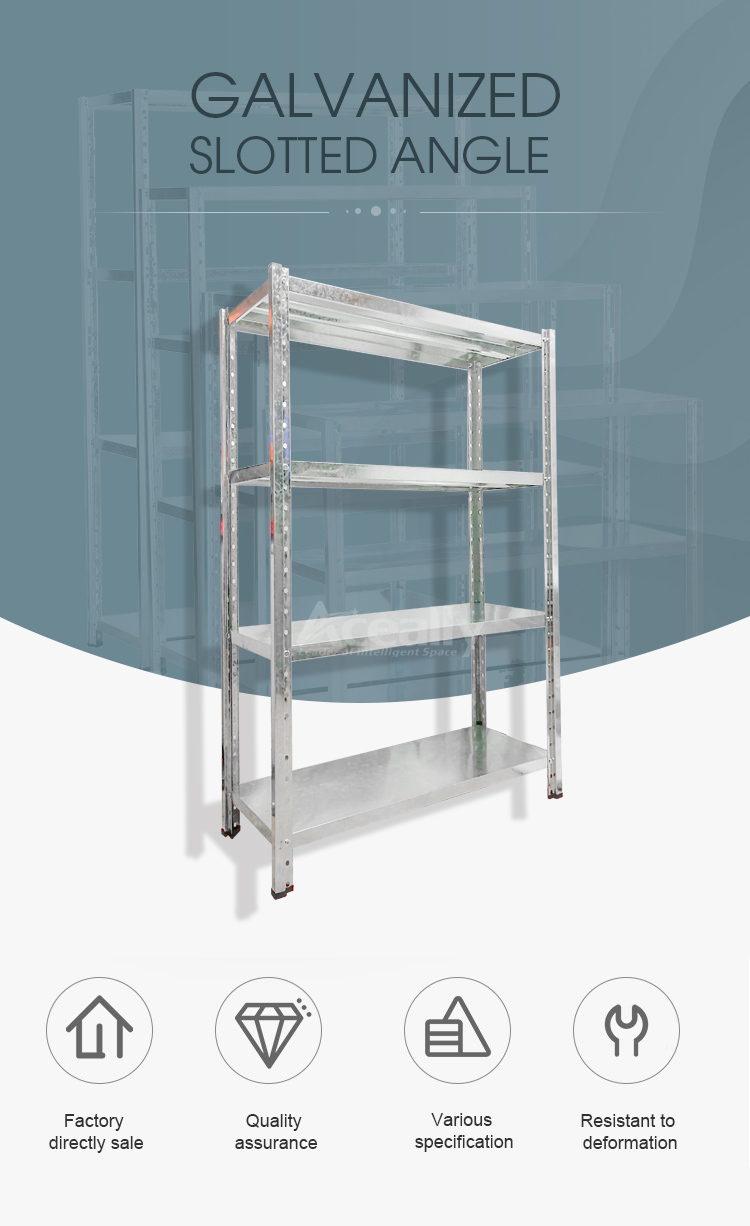 Features of galvanized angle iron shelving
-4 Tier Galvanized slotted angle shelf
-Each shelf can hold up to 100KG
-Easy slot together structure
-High quality and good package and ship on time
Specification of galvanized angle iron shelving
Specification of Galvanized Slotted Angle Rack

Material

Zinc plated steel

Composition

Post, panel and accessories

Surface Treatment

Galvanized

Layer

3~4 layer

OEM/ODM

Acceptable

Color

White

Type

Bolted welding/ none welding rack

Length

1000mm/1200mm/1500mm

Width

400mm/500mm

Height

1500mm/1800mm

Loading Capacity

100kg/layer

MOQ

50 set
Advantages of galvanized angle iron shelving
1、Low processing cost: The cost of hot-dip galvanized rust prevention is lower than that of other paint coatings;
2. Long-lasting and durable: Hot-dip galvanized angles have a glossy surface, uniform zinc layer, no leakage, no dripping, strong adhesion and strong corrosion resistance. In the suburban environment, the standard hot-dip galvanized rust-proof layer can be maintained for more than 50 years without repair; in urban or offshore areas, the standard hot-dip galvanized rust-proof layer can be maintained for 20 years without repair;
3. Good reliability: The galvanized layer is metallurgically bonded to the steel and becomes part of the steel surface, so the durability of the coating is more reliable;
4, the toughness of the coating: the galvanized layer forms a special metallurgical structure, which can withstand mechanical damage during transportation and use;
5、Comprehensive protection: Every part of the plated part can be coated with zinc, even in the recesses, sharp corners and hidden places can be fully protected;
6. Time and labor saving: The galvanizing process is faster than other coating methods and avoids the time required for painting at the site after installation.