The
slotted angle steel shelving
belongs to a kind of light-weight shelf with easy disassembly, easy assembly and light and convenient. Slotted angle shelving system can adjust the number of layers according to their own needs to improve the storage capacity.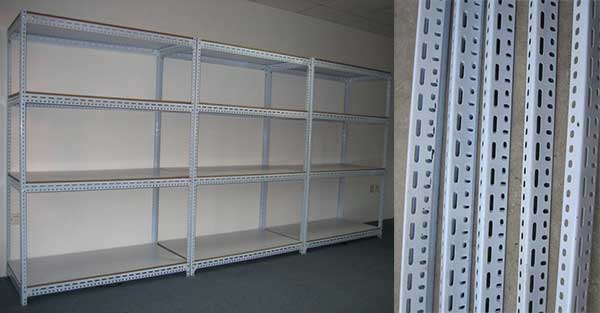 Performance: The slotted angle storage is a kind of light shelf. The slotted angle iron for shelving is made of high-quality cold-rolled steel plate. It is easy to be disassembled and adjusted. It can be flexibly combined and modified. It can increase or decrease the number of layers according to the customers' requirements, so as to achieve the best storage effect.
Slotted angle storage racks structure:
1. Shelf column: it is made of equal angle steel with two sides punched, and the hole distance is arranged along a line with a distance of 50 mm. The column hole is used to hang the laminate;
2. Shelf steel laminate: cold rolled steel plate is used to bend and shape the four sides according to the required size.
3. The shelf is composed of the column and the steel laminate connected and fixed by the quick clip pin and the triangular fixed piece.
4. After all parts of the shelf are processed and formed, they are all processed by grinding, pickling, phosphating, automatic powder electrostatic spraying and drying, and then assembled into finished products. The surface of the finished shelf is smooth and beautiful, and the laminate can be adjusted up and down at will, which is convenient for disassembly and assembly.
Specification
Product Name
Specifications(mm)
Thickness(mm)
Length(mm)
Capacity(lbs)
Picture
Angle Post(Equilateral)
35*35 36*36
38*38 40*40
1.5~2.0
H24"-144"
1000~3000



Angle Post(Inequilateral)



60*40
57*37
1.5~2.0
H60"~192"
1500~3500


Shelf(without support)
900*300
900*400
900*450
900*600
0.7~1.0






Shelf(with support)

900*300


900*400
900*450


900*600



0.7~1.0






Corner plate

70*70
0.7






Slotted angle shelving features:
Slotted angle shelving suppliers it is mainly composed of column, steel plate, screw and triangle. It is generally used for stacking and storage of light goods. The general bearing capacity is about 50-250kg. Universal angle steel shelf is suitable for household use, automobile 4S shop, small warehouse and so on to store light goods.