Heavy-duty cantilever racking is an over-extended arm storage system that is perfect for storing large quantities of Q235 steel.
The

heavy-duty

cantilever racking system with technical lateral forklift can solve the storage of long materials and irregularly shaped materials. The maximum column can reach 10 meters, cantilever length 1.0-1.2m and load capacity up to 1 ton. Heavy-duty cantilever racking systems are used indoors and outdoors. Hot-dip galvanized surface treatment is available. It can also be installed on top of the column with a suspended ceiling to withstand wind and rain.
Components of

Cantilever Racking
Features of

Cantilever Racking
● Broad load capacity for standard and seismic applications
●Center column design for unlimited horizontal space
● Completely customizable
Cantilever Arm
The cantilever is the core of the racking system. Spieth offers variable arms that are compatible with C/C columns. The arms can be easily adjusted on and off the column and are available in various capacity lengths from 220 ~ 1,500 kgs (100 ~ 3,300 lbs). The arms of the cantilever racking can be either single-sided or double-sided.
The arms can be welded to the connectors in different positions depending on the customer's load requirements. Straight arms, standard arms and angled arms are available.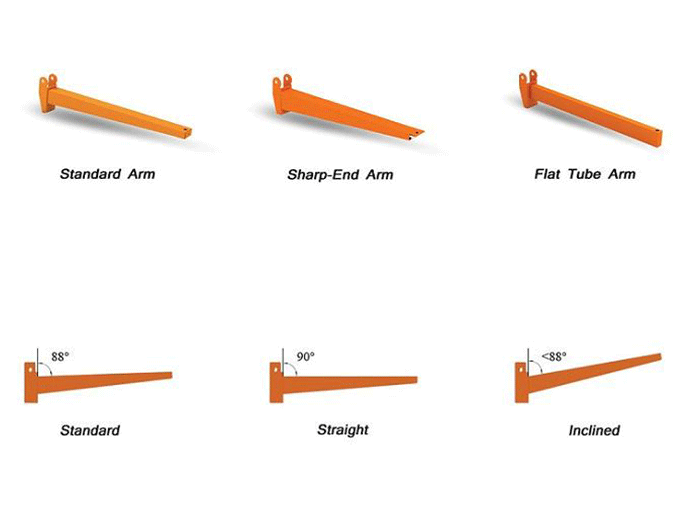 Specifications of

Cantilever Racking
| | |
| --- | --- |
| Product name | Cantilever pallet racking |
| Length | 1000-10000 mm or customized |
| Width | 600-1500 mm or customized |
| Height | 1000-10000 mm or customized |
| Upright Selection | 80*60*1.5/2.0 mm 90*70*2.0 mm 100*70*2.0/2.5 mm |
| Cantilever Selection | 80/100/120/140/160*50*1.5/2.0 mm |
| Base Selection | 200*180 C Steel |
Project of
Cantilever Racking